Simple Crochet Basket Pattern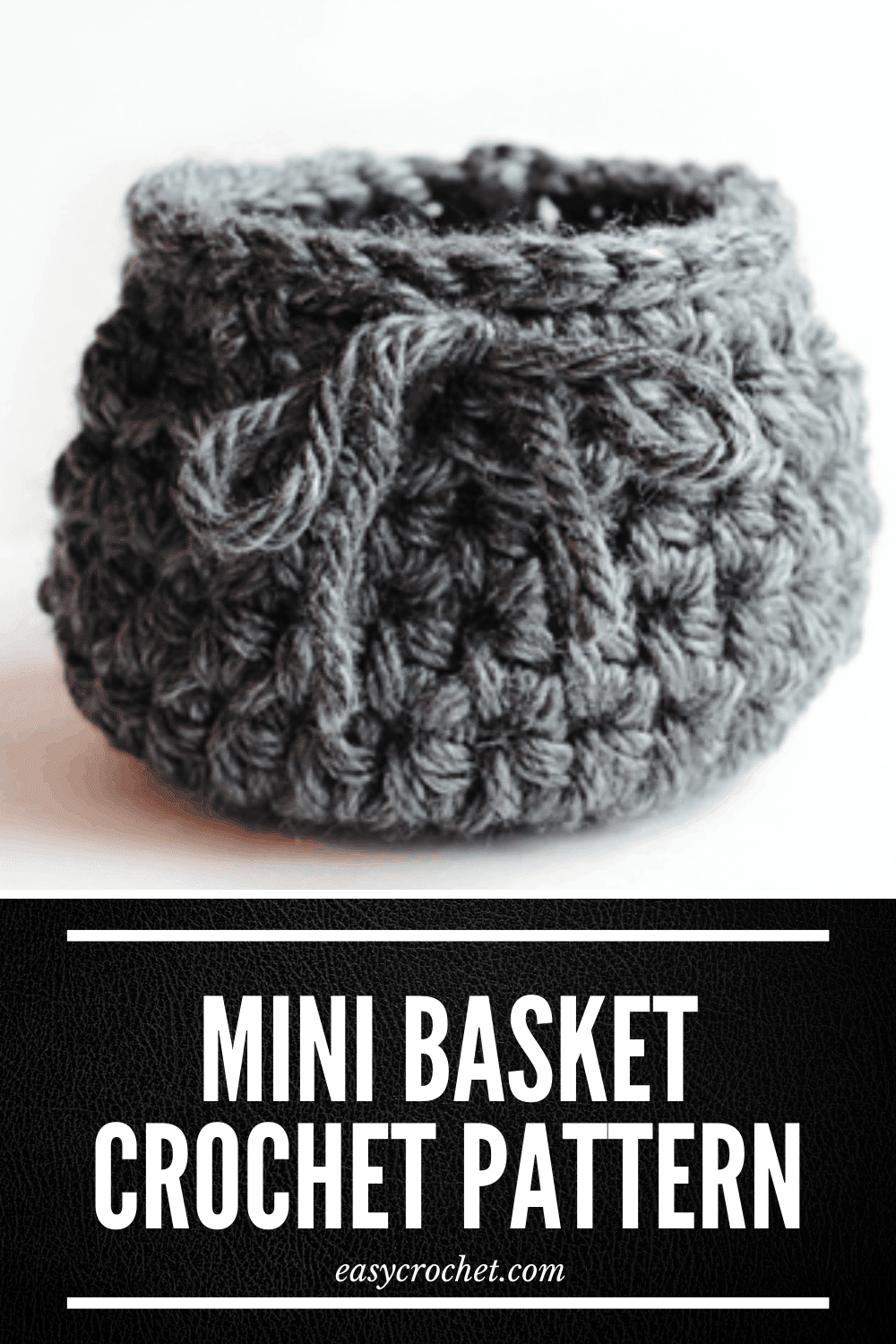 This simple crochet basket pattern is perfect for those of us who like to wait to the last minute to figure out gifts. If you are looking for a quick crochet basket, then this one may be it.
Do you want even more basket patterns? Try the reader favorite 20 free crochet basket roundup or the tabletop mini basket pattern.
I can't wait for you to try this little basket!
Happy Basket Making!
These Simple Crochet Baskets Work up Fast!
If you want to learn how to crochet a basket but don't want to try a considerable project, then this is a perfect little crochet basket! Promise!
These cute little crochet baskets work up in less than 30 minutes are great for giving gifts on holidays or birthdays! I love using mine to hold gift cards, but anything small would work great!
Learn How to Crochet an Easy Basket?
These baskets are super easy to learn, and they are perfect for holding items around the house! Think of things like hair ties, paper clips, and even jewelry! They are the perfect catch-all. 🙂
Read on down for the full, FREE crochet mini basket pattern!
Happy Crocheting Friends!
Simple Crochet Basket Pattern
Skill Level: Easy
Materials
Finished Size
Approximately a 13-Inch circumference and 5 inch height
Notes
Slip Stitch does not count as a chain when working in the round. (skip it)
Make sure to slip stitch to first Single or Double Crochet in each round not the Chain 1 or 2.
Crochet Basket Pattern
Round 1: Chain 3, 10 Double Crochets in 3rd Chain from hook. Slip Stitch to top of first Double Crochet.
Round 2: Chain 2, 2 Double Crochets in Each Chain Around. Slip Stitch to top of First Double Crochet (not the chain 2)
Round 3: Chain 2, 2 Double Crochets in first Stitch, *1 Double Crochet in next stitch, 2 Double Crochets in Next stitch, Repeat from * around until last chain, slip stitch to the top of the first Double Crochet.
Round 4: Chain 2, 1 Double Crochet in each stitch around. Slip Stitch to top of first Double Crochet.
Round 5 & 6: Repeat Round 4.
Round 7: Chain 2, Double Crochet in first st *Skip next stitch, Double Crochet in the next stitch, Now go back and Double Crochet in the Skipped stitch (creates a crisscross) Repeat from * until the end of round. Slip Stitch to top of first Double Crochet.
Round 8: Chain 1, Single Crochet in each stitch around. Slip stitch to top of first Single Crochet.
Round 9: Chain 1, Slip Stitch in ever stitch around. Fasten off. Weave in ends with Yarn needle
Bow: (optional)
Cut a 24-Inch Piece of yarn with scissors
Attach yarn to yarn needle
Finishing: Weave in yarn completely around basket along top of single crochet round (see picture)
Pull yarn through as you are weaving it around until you are left with about 1 inch of space between yarn ends. (See picture)
Tie a bow and cut ends if you choose. It really depends on how long you want your bow.
You are done!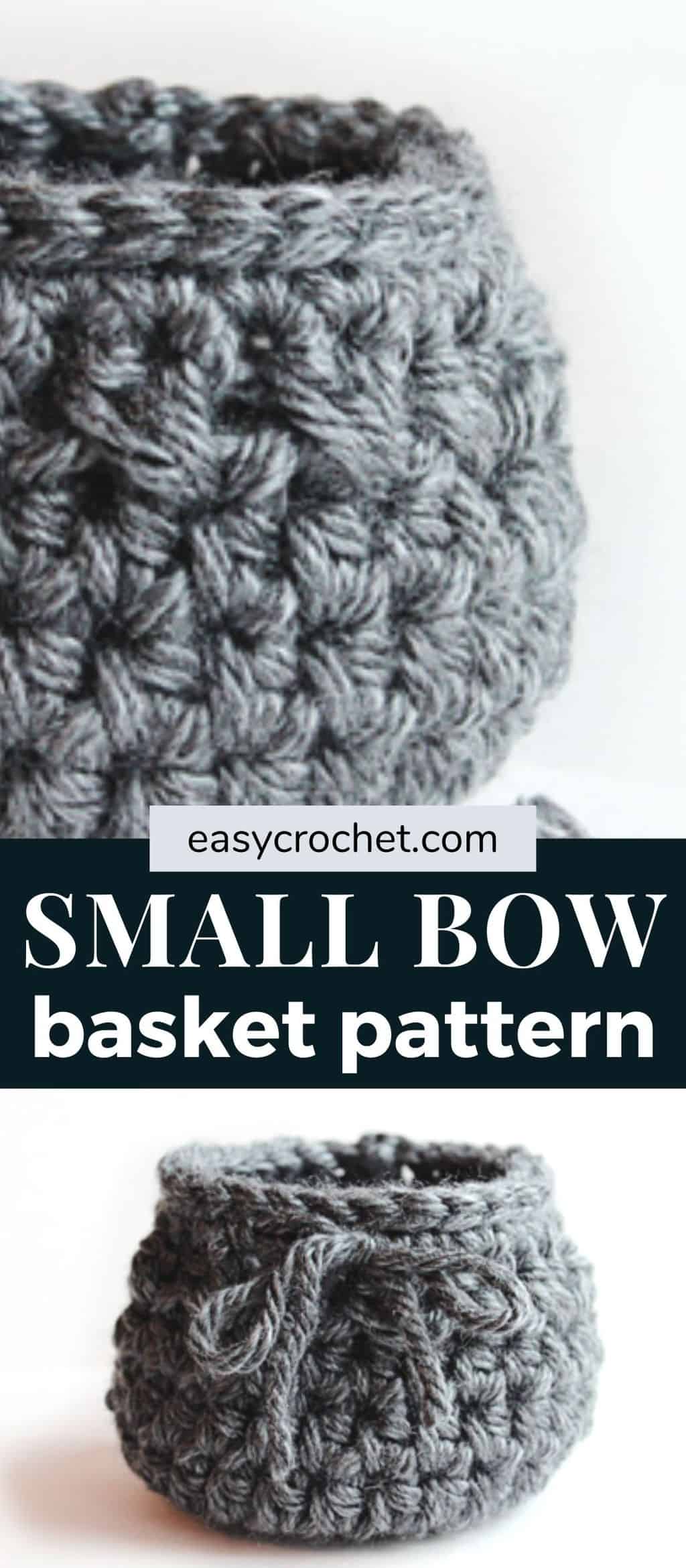 The basket could also be easily cinched closed to hide gifts and make gift giving even more fun than it already is!
I ended up trimming the ends of the bow to make it a little shorter.
Which way do you prefer?
Bow?
or
No Bow?
I actually love it both ways! I like the fact that without the bow you can see the awesome crisscross pattern, but with it, you can cinch the basket closed and hide away whatever you are giving! To… many… choices…
Thanks for Making This Free Crochet Basket!
If you have any questions about this simple crochet basket pattern, please feel free to ask and if you do make this please share it on Instagram with the #easycrochetcom.
I enjoy seeing finished products from my patterns! 🙂