Extra Long Summer Crochet Scarf Pattern
This long striped Summer crochet scarf is made with lightweight cotton yarns and is super breathable. I could definitely see myself wearing this on a cool summer evening while out and about.
Related: If you are looking for more scarves to make, be sure to check out the Easy Crochet pattern database for access to over 300 FREE patterns!
I hope you enjoy this beginner-friendly scarf!
Happy Crocheting!
The Yarn That's Perfect for This Scarf
Just because it's hot out doesn't mean you shouldn't wear scarves! Plus, I always need to give myself a reason to crochet! I used cotton yarn for this scarf since it is breathable, which is perfect for the warmer months.
Even if you would rather not make this for summer, you could use some thicker yarn like Lion Brand WET&Q or Vanna's Choice to make a warmer scarf for the colder seasons.
Wool-Ease Thick and Quick
This yarn is made by Lion Brand, and is a Weight 6 – Super Bulky yarn.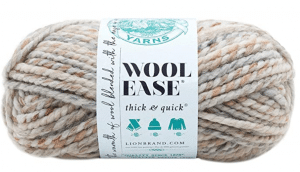 Buy Now
Patterns Using This Yarn →
Vanna's Choice
This yarn is made by Lion Brand, and is a Weight 4 – Medium yarn.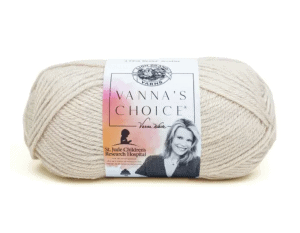 Buy Now
Patterns Using This Yarn →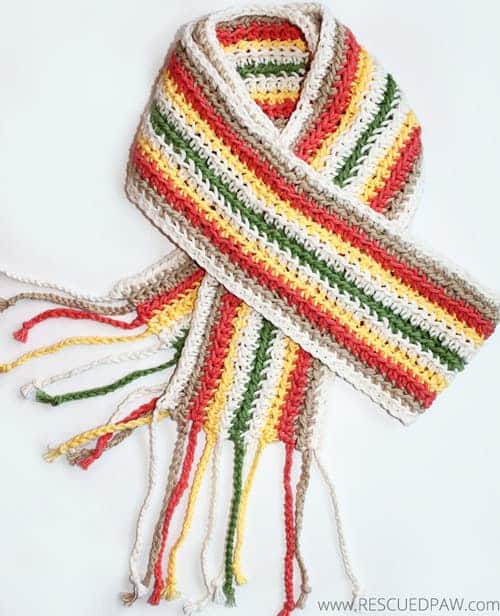 Ready to get started? Scroll on down to find the full, free scarf pattern. Enjoy!
Summer Crochet Scarf Pattern
Skill Level: Basic
Materials
Notes
Make sure to leave 6 inches of yarn when starting and finishing colors to create the fringe at the end
Written in standard US terms
The Pattern Steps
Chain 200 with your choice of color
Row 1: Double crochet in the third chain from the hook, and work a double crochet in every stitch across until the end of the row, Leave a 6-inch piece of yarn when changing color, turn
Repeat row 1 (10) More times, alternating colors along the way.
Now you need to cut 22 12″ pieces of yarn in the coordinating colors of your stripes in the scarf. Loop the corresponding color into the last double crochet at the beginning & end of each row. Braid with the 6″ piece that was left before & tie off. Make sure to trim the edges of the braid, so they are even.

You Are Finished With Your Long Crochet Scarf
Thanks for looking and if you want more inspiration you can follow me on Pinterest HERE,
If you have any questions about this pattern, please email me or leave a comment below.
More Free Crochet Scarf Patterns
If you enjoyed the pattern above, then you may like some of our other scarf patterns as well!