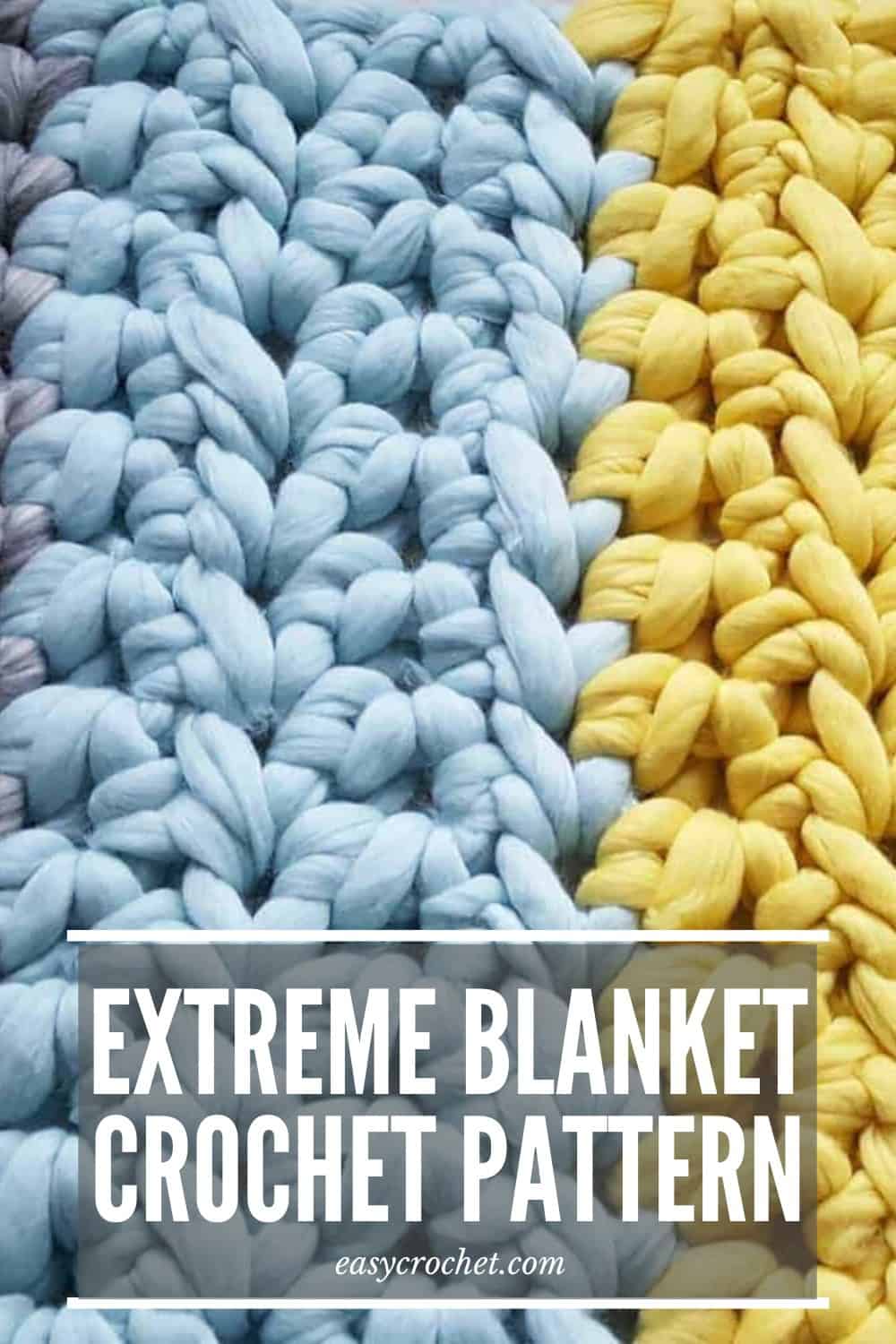 Use this giant yarn blanket to create a stunning crochet piece for your home! All you need is some extra chunky yarn, a big crochet hook and you are good to go!
Are you looking for even more free crochet blanket patterns? Explore the blanket archives for inspiration.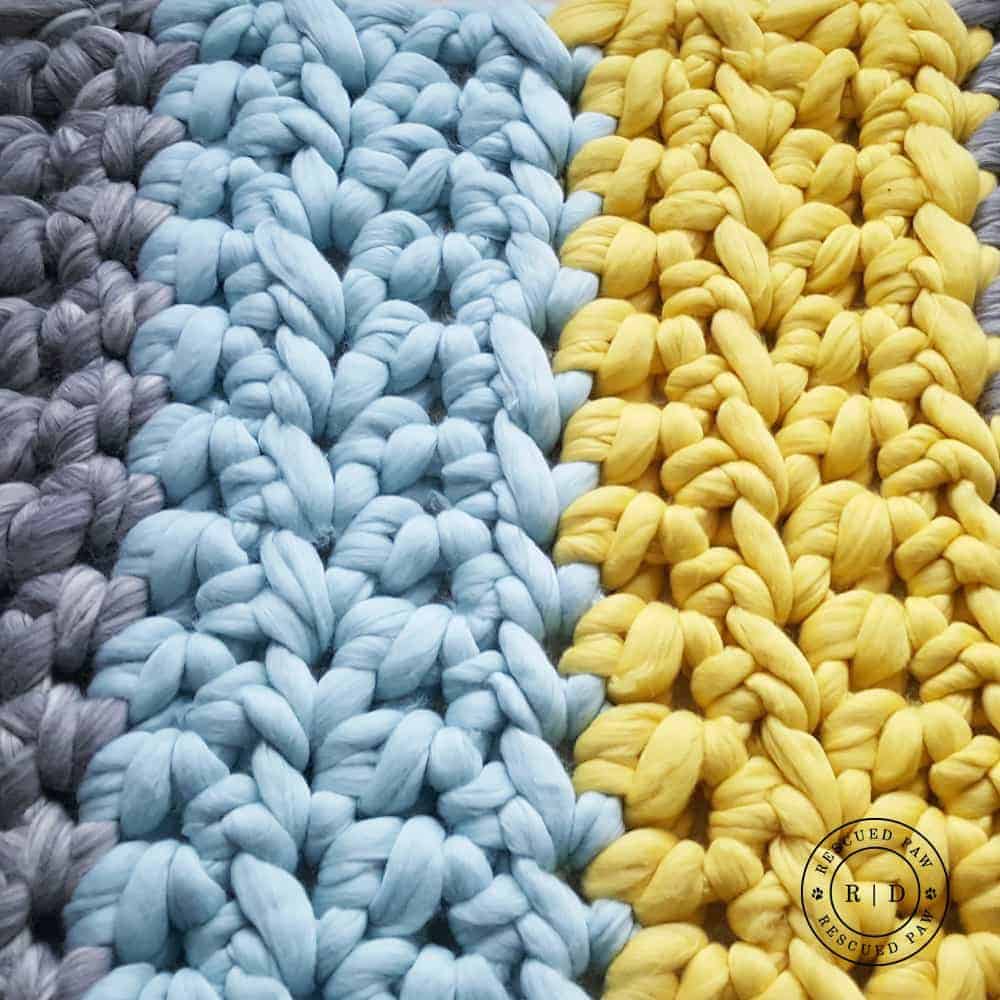 I can't wait for you to make this blanket and get your hands on this yarn!
Happy Big Blanket Making!
Use This Big Stitch Yarn to Create an Oversized Crochet Piece
I was so excited when Sarah from Mama Knows Luxury asked me to try out some of her fabulous big stitch yarn. It is quite beautiful and was so very soft to work with throughout the pattern. This yarn so awesome to work with and created this giant cozy blanket.
This throw is the definition of an extreme crochet blanket if you ask me! If you love extreme crochet patterns, then this one is for you!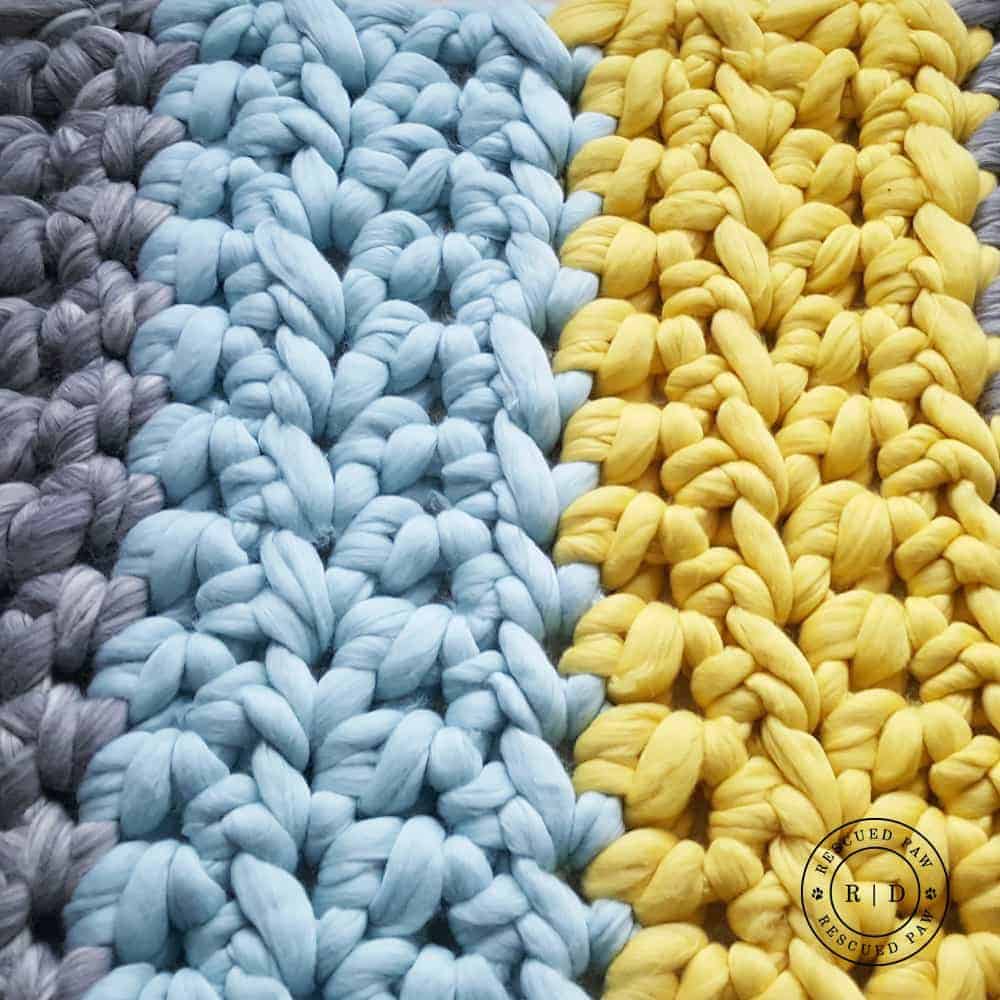 Make a Big Yarn Blanket Fast With This Extra Chunky Yarn!
Hello Chunky Yarn Heaven! I decided to make a big stitch extreme crochet blanket pattern because you better go big or go home. Also, I hadn't had the opportunity to work with such a unique yarn before.
It was quite amazing getting to work with this luxurious super bulky yarn and creating something so fluffy! I loved it when I first opened up the package because it was spun up in a ball and almost looked like a cloud!
Do you see it too?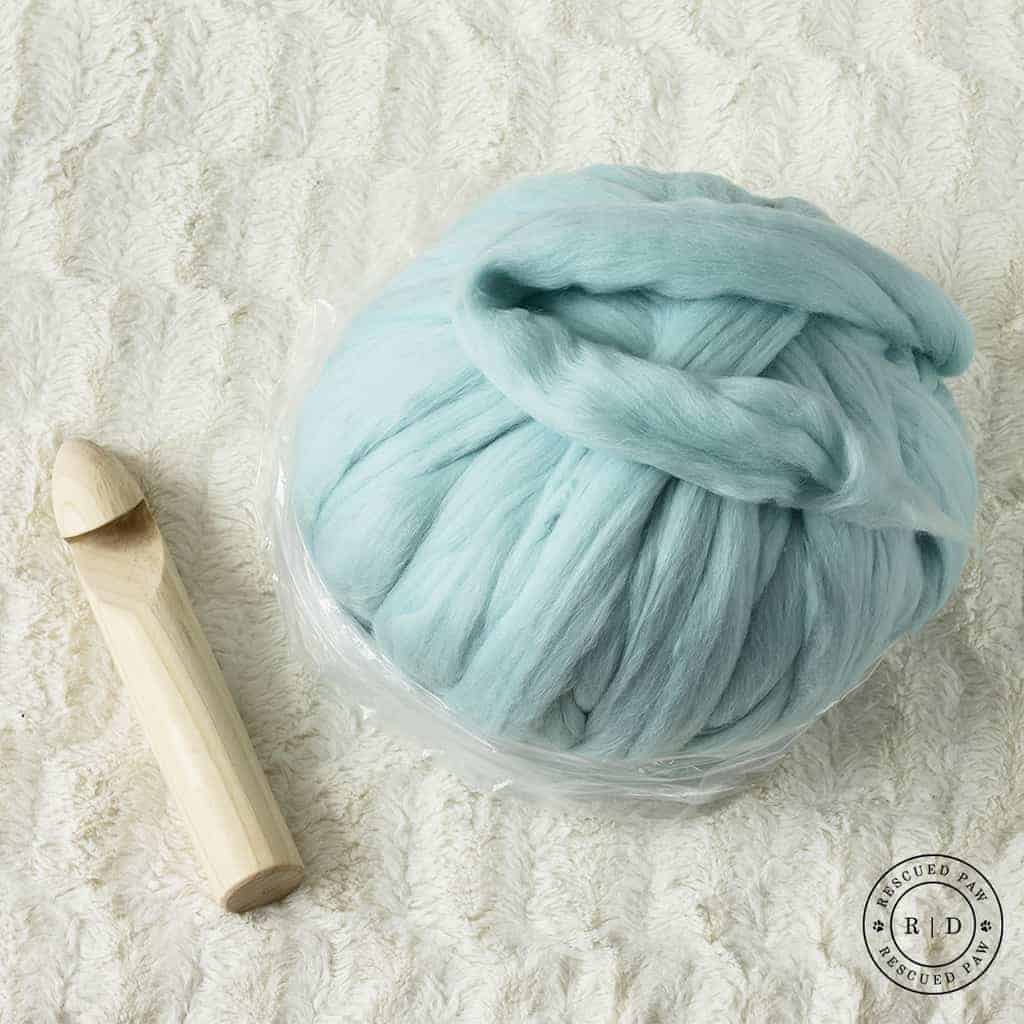 So Many Beautiful Colors to Chose From to Make Your Big Blanket!
For my colors, I chose Grey, Ice Blue (pictured above) and Yellow which in my opinion the perfect spring colors! There are so many more to pick from so you can pick what you love instead.
*Update 2020: This yarn I used is no longer available but I found a comparable big yarn online that will work just as well.
I started my blanket by chaining 13 with my 40 mm crochet hook (which is also from Mama Knows Luxury) and then proceeded to do simple half double crochets back through on my ch's to complete the first row.
This hook is pretty fabulous mostly due to the sheer size of it. It was definitely fun to work with throughout the pattern.
I did try single crochet and double crochets too but decided to go with the half double crochets because I loved the way they made the wool look. I think after you try it; also, you'll agree!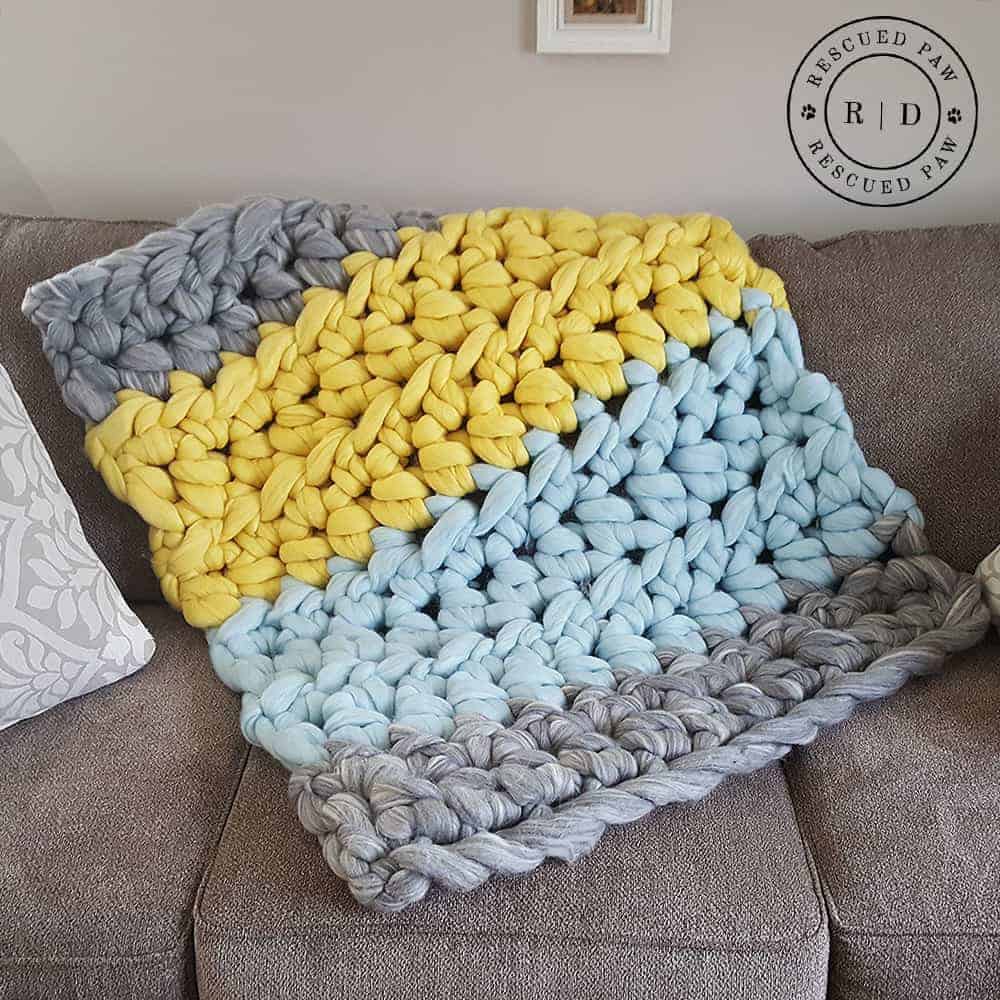 You Could Make a Big Knit Blanket Too
I have also seen this yarn used to make extreme knit blankets with too, and it looks just as amazing! I think I may want to try that next!
Keep on scrolling down for the FREE big yarn crochet pattern!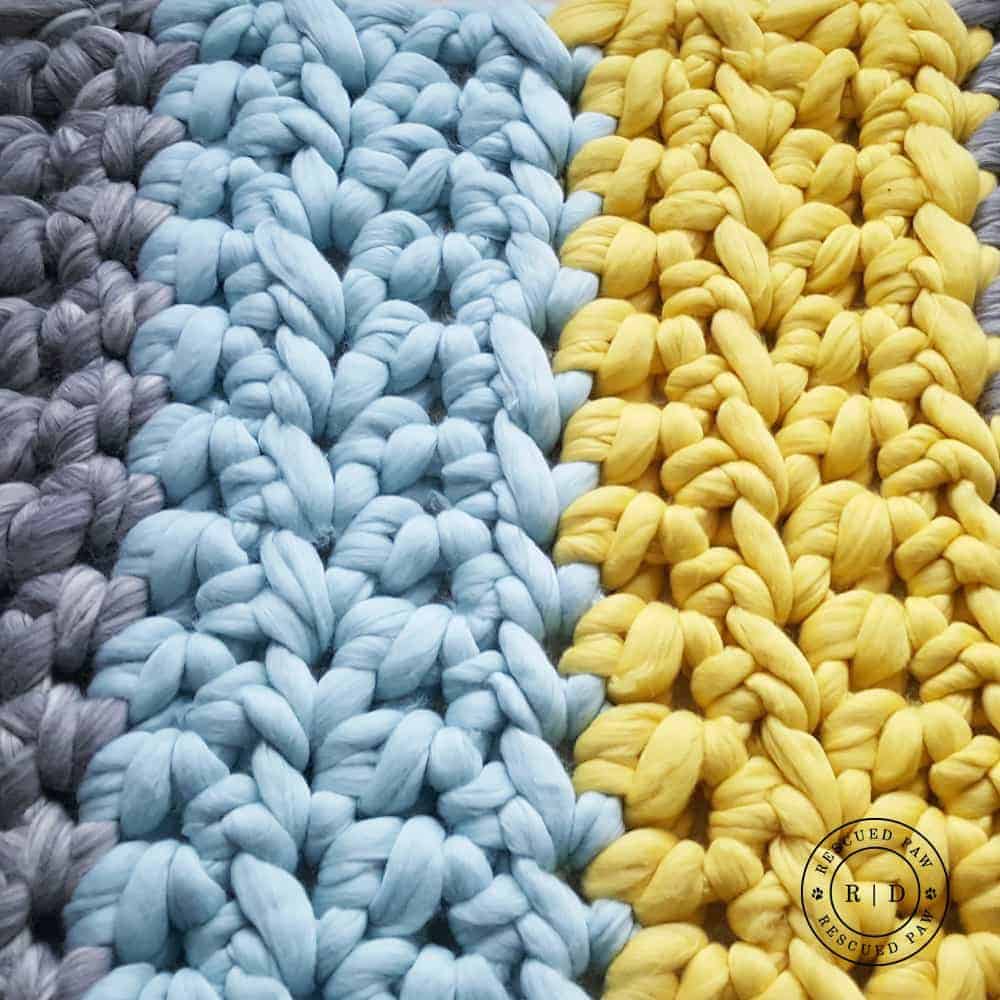 Big Stitch Extreme Crochet Blanket Pattern
Skill Level: Basic
Materials
All materials found in MamaKnowsLuxury's Shop
Update as of 2020 – The items used are no longer available but lionbrand.com has a big stitch yarn and hook available that would work perfectly with this pattern!
A

crochet hook 40 MM

6Lbs of Big Stitch Merino Wool
– 2 lbs of Gray
– 2 lbs of Ice Blue
– 2 lbs of Yellow
Felting kit to finish ends
Crochet Abbreviations
CH = Chain

ST = Stitch

BL = Back Loop

HDC = Half Double Crochet
Pattern Notes
Gauge is approximately 3" for every 1 stitch

Finished size is approximately a 40" width

Written in standard US terms

I would suggest felting color ends as you go so you don't waste yarn.
Keep on scrolling down to find the simple free crochet pattern!
Happy Extreme Crochet Blanket making!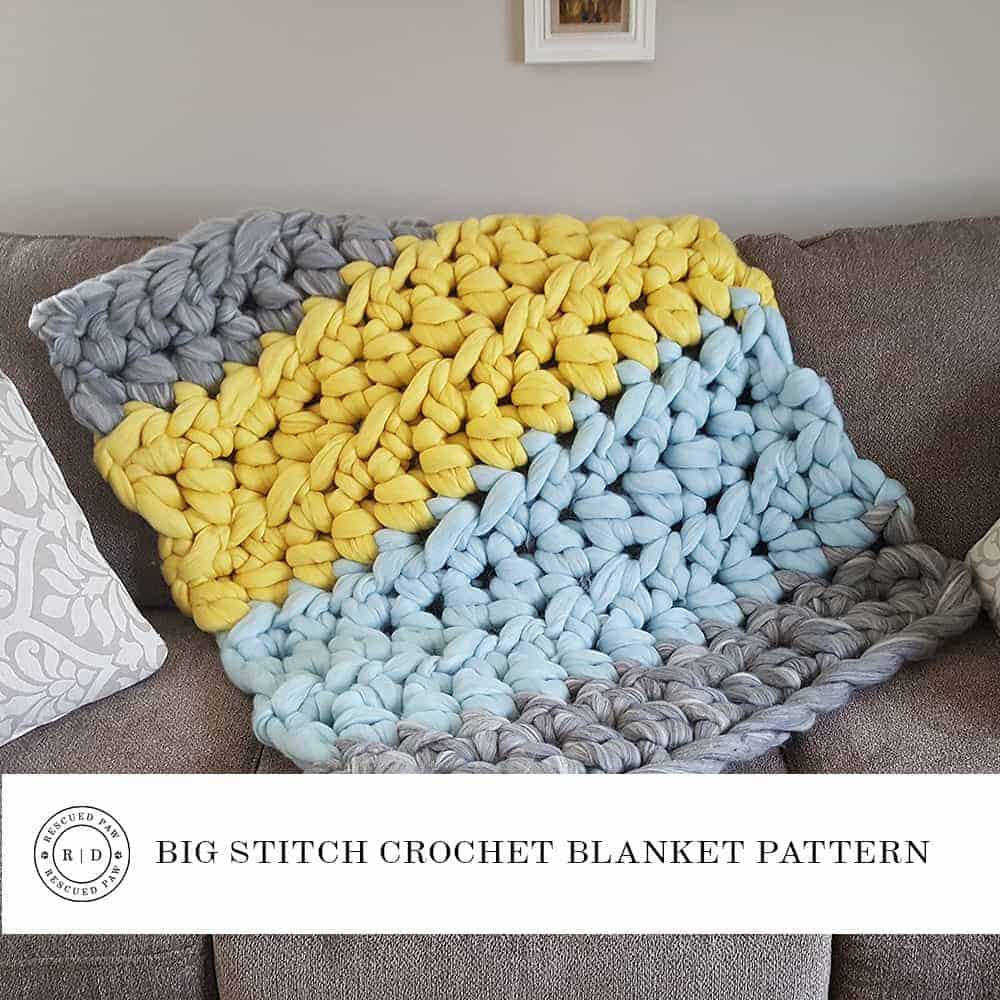 Big Yarn Crochet Blanket Pattern Steps
Foundation Row: With Grey Big Stitch Merino CH 13
Row 1: In second CH from the hook HDC, HDC in every CH across, turn. (12)
Row 2: CH 1, in the first ST HDC, HDC in every ST across, turn. (12)
Row 3: Join in Ice Blue, Ch 1, HDC in first ST, HDC in every ST across, turn. (12)
Row 4-6: CH 1, in first ST HDC, HDC in every ST across, turn. (12)
Row 7: Join in Yellow, Ch 1, HDC in first ST, HDC in every ST across, turn. (12)
Row 8 – 10: CH 1, in first ST HDC, HDC in every ST across, turn. (12)
Row 11: Join in Grey, Ch 1 HDC in first ST, HDC in every ST across, turn. (12)
Row 12: Ch 1, HDC in first ST, HDC in every ST across, turn. (12)
Row 13: Ch 1, SL ST across entire row. (12)
Finishing
Fasten off and felt ends to secure with a felting kit. (See below!)

Click Here

to watch a video on felting from Mama Knows Luxury to learn more.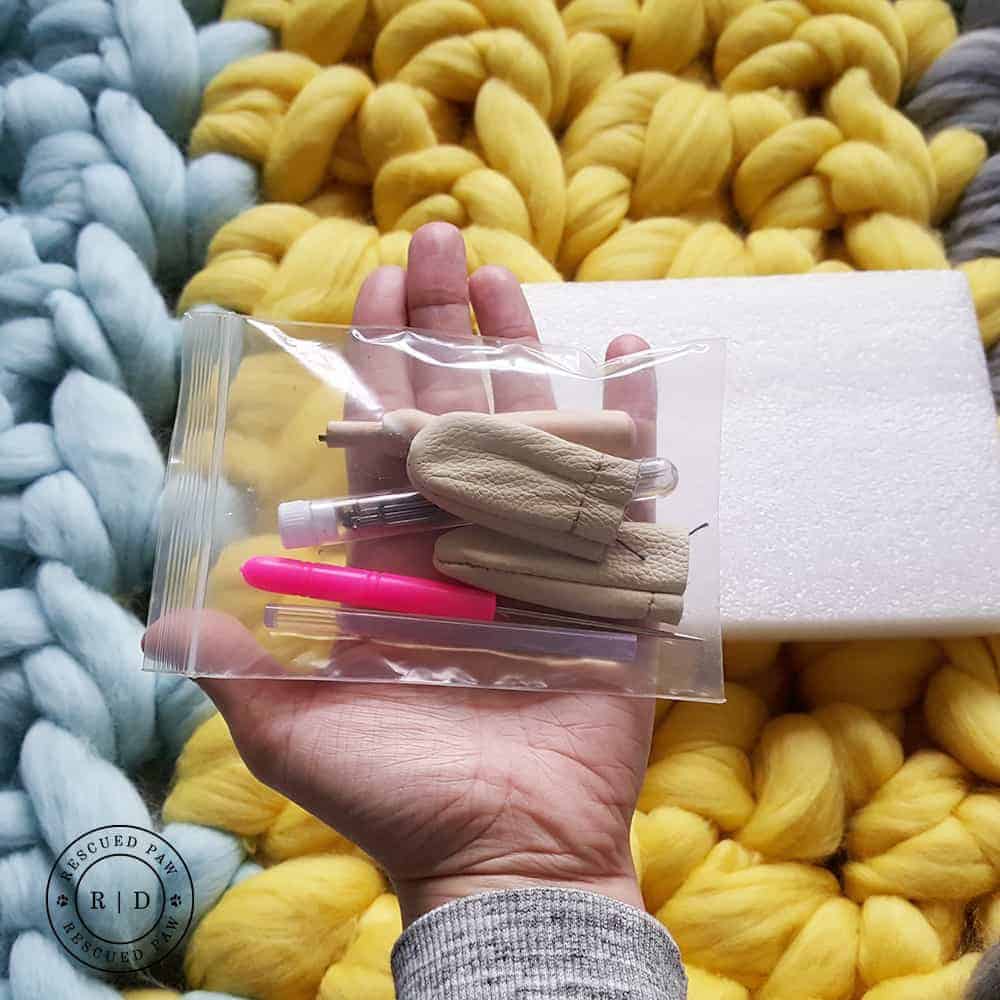 I really loved felting my blanket! It was really fun to see how the wool eventually blended together to become one strand. I'm obsessed!
After you are done felting then you are finished with your very own extreme blanket!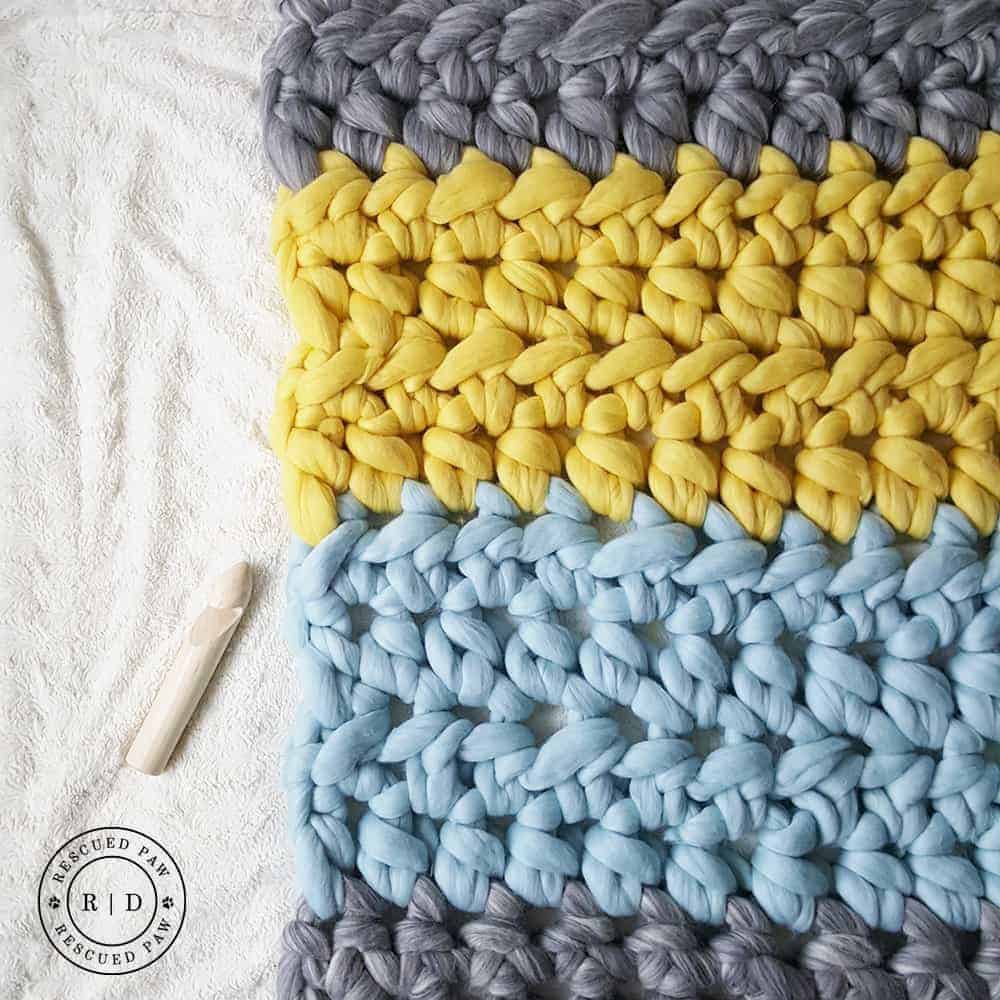 Thanks for stopping by to take a peek at my Big Stitch Crochet Blanket!
I hope you enjoy making your big stitch extreme crochet blanket!