Crochet Plant Holder Pattern: Teacher Gift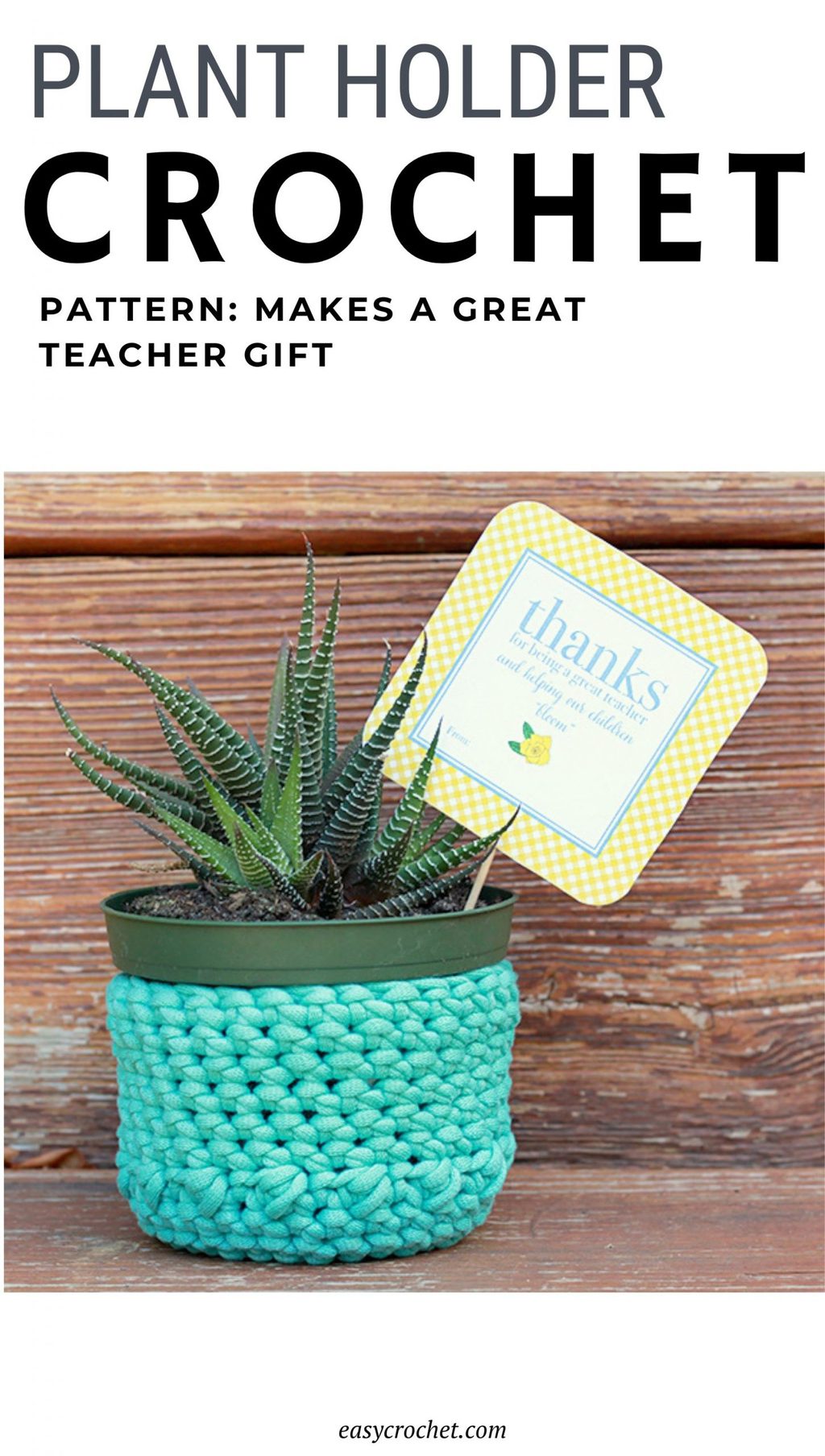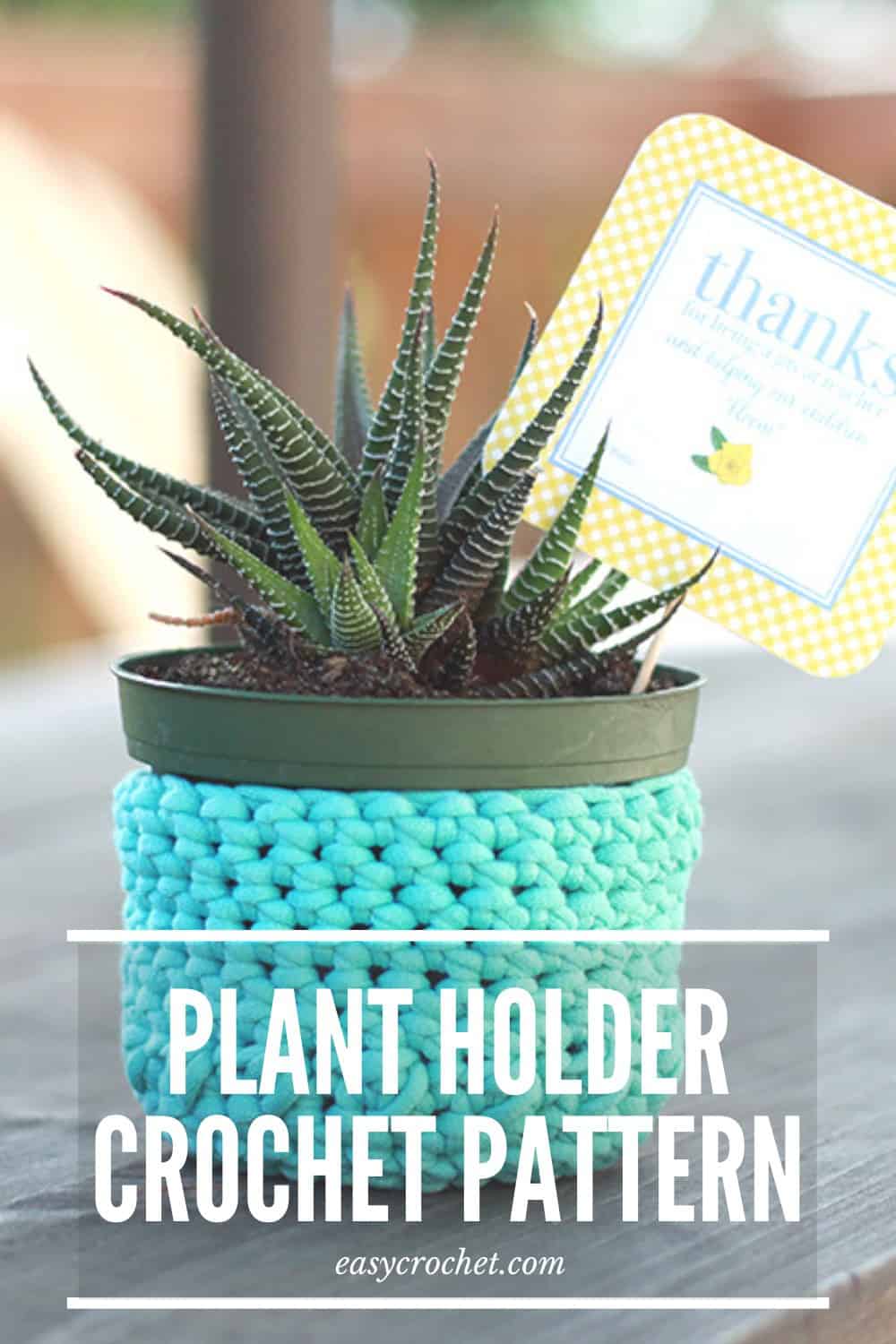 Looking for a fabulous end of the year teacher gift, you can crochet? You can make this easy and quick crochet plant holder with the free crochet pattern below!
Are you looking for more quick gifts? Try the reader's favorite one-hour cowl or messy bun beanie!
I can't wait for you to make this simple crochet gift!
Happy Plant Holder Crocheting!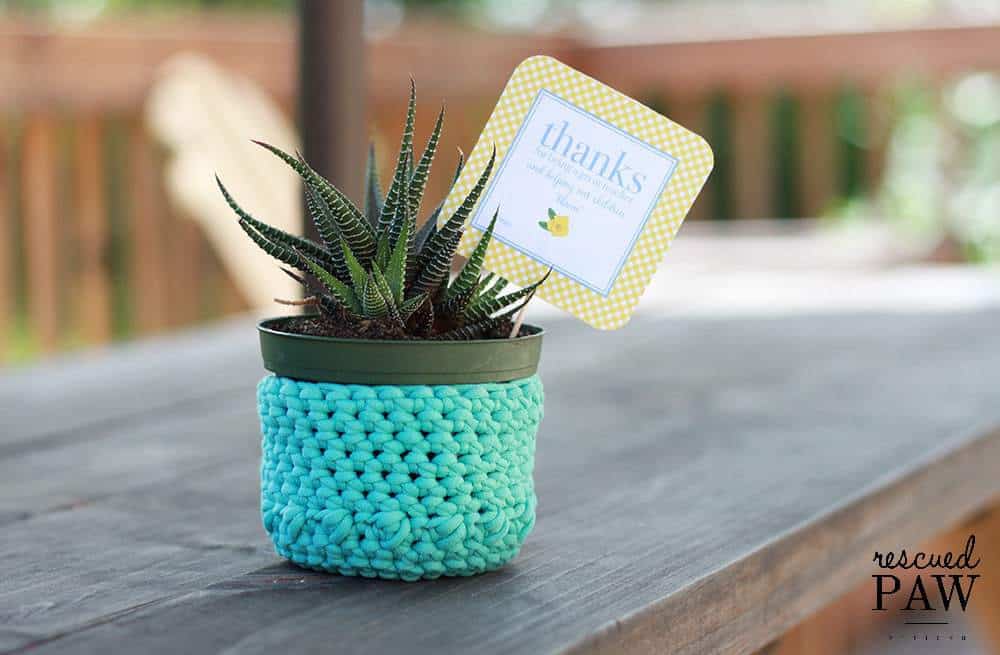 A Plant Holder is a Perfect Gift for Teachers!
This crochet plant holder is a great end of year teacher gift! Something handmade always seems to add an extra personal touch to almost any gift, plus my kids love giving their teachers something that they had a part in picking out!
Keep on scrolling down to find the full free pattern and a link to the fun printable shown below!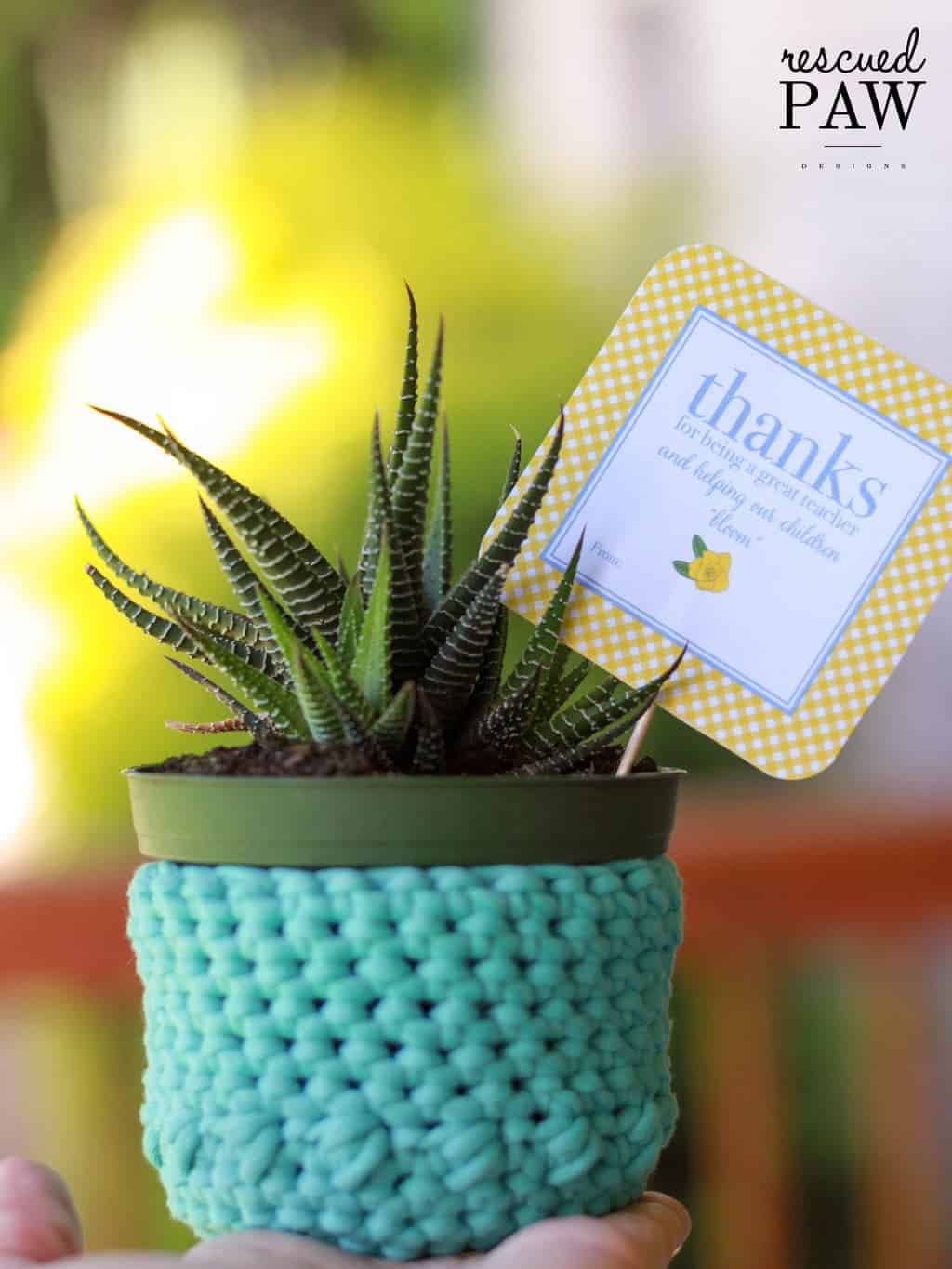 How to Make a Crochet Plant Holder!
For my plant holders, I decided to use a succulent, but any plant would work great! I figured that the succulent might last a little longer than a traditional flower.
After I crocheted up the holders, I used a printable tag from my friends over at Pineapple Paper Company to complete my project! I attached each one to a toothpick with some washi tape and then stuck them in the pot!
Next, I had each of my children sign their tag and give them to their teachers! Sounds super easy, right?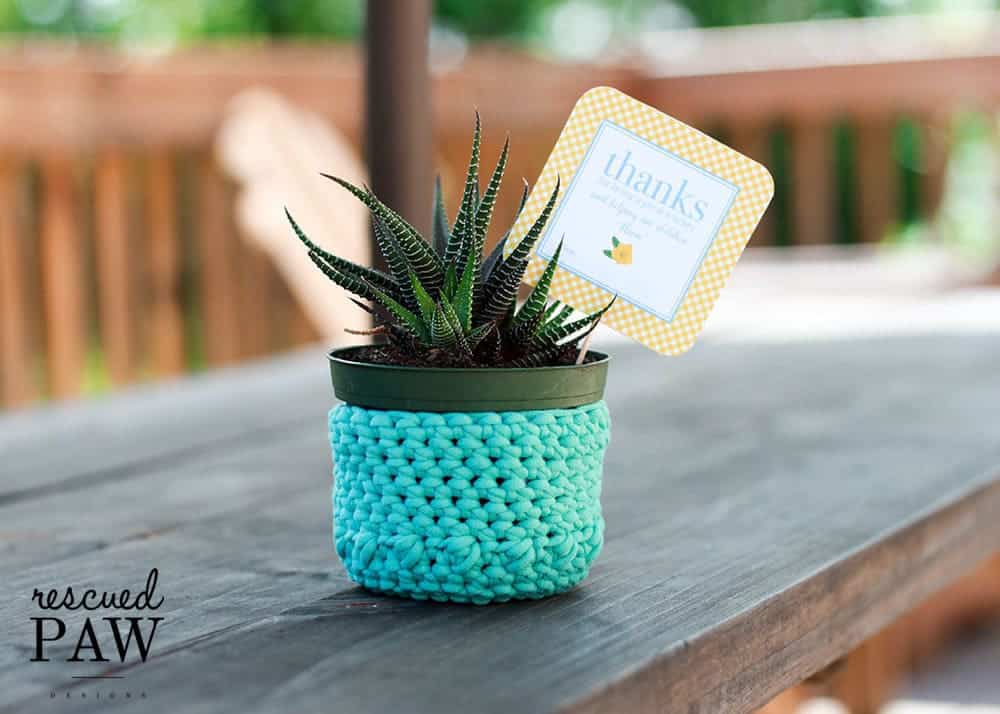 Ready to Get Started?
Since this is such a quick project, I know you will want to make more than one of these cute plant holders as soon as possible! Enjoy.
Happy Crocheting!
Easy Crochet Plant Holder Pattern
Skill Level: Easy
Shopping List
Bernat Home Maker Dec Yarn or 20 yards of bulky 5 T-shirt yarn
H Crochet Hook Size 5 mm
Large Yarn Needle
Stitch Markers
Scissors
Crochet Abbreviations
CH = Chain
SC = Single Crochet
HDC = Half Double Crochet
SPHDC = Special Half Double Crochet (Work a half double crochet as normal, but before pulling through all three loops on hook to finish, work another half double crochet in the same stitch then complete the stitch)
SL ST = Slip Stitch
Notes
The plant cozypattern is worked in a continual round while using a stitch marker.
You will need to move the stitch marker to the designated stitch as the pattern progresses.
The finished size is approximately a 3-inch base and 2.5-inch height
I used a 3.5 inch round planter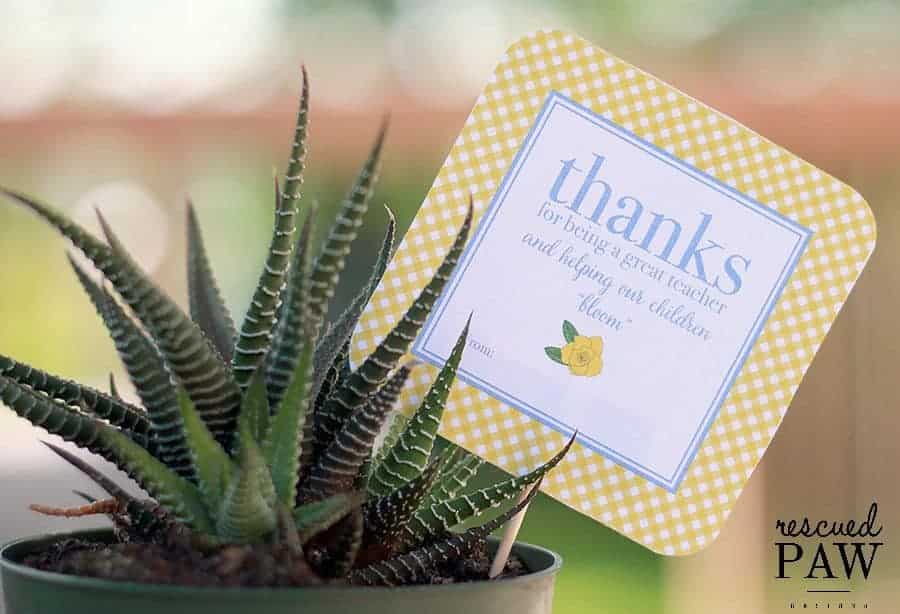 The Printable Tag
The free printable teacher appreciation tag from Pineapple Paper Co is the perfect addition to your this crochet cozy for your succulents or plants. Be sure to download the free printable thank you tag!
Pattern Permissions
SELLING: You may sell items made from patterns on Easy Crochet unless otherwise stated. If you choose to sell items made from this pattern, please link back to me at www.easycrochet.com for credit. Please do not use my pictures to sell your items.
IMAGES & CONTENT: The images and content of EasyCrochet.com are protected by copyright laws. Do not distribute or copy the content without written permission. Do not edit or remove watermarks from any original image from easycrochet.com. If you would like to share an image, please only use 1 with a link back to Easy Crochet. Thank you for respecting my work.
TRANSLATIONS: Please do not post a translation of my pattern(s) anywhere. If you would like to help make a translation I would be happy to publish it on Easy Crochet with a link and full credit to your blog. For further questions, please email krista@easycrochet.com.
The Succulent Holder Crochet Pattern
Printable Tag by Pineapple Paper Company
Round 1: CH 2, do 10 SC's into the 2nd CH from the hook – Place a stitch marker in the last SC. (10)
Round 2: 2 SC's into every ST around – Place a stitch marker in the last SC. (20)
Round 3: * In next ST do an SC, 2 SC's in next ST, repeat from * around, ending with 2 SC's – Place a stitch marker in last sc. (30)
Round 4: SC in every ST around – Place a stitch marker in the last SC. (30)
Round 5- 6: Repeat Round 4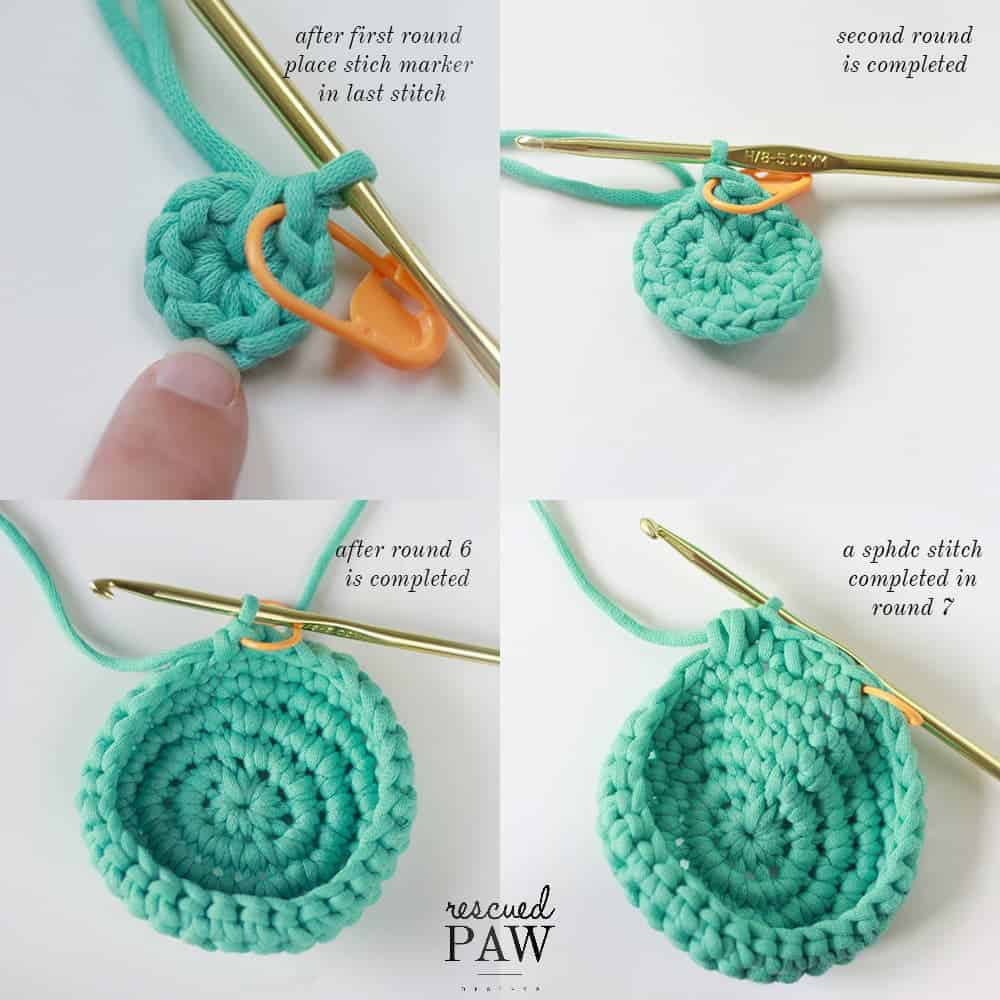 Round 7: *In next ST make a SC, In next ST make an SPHDC, repeat from * around, ending with an SC – Place a stitch marker in last SC. (30)
Round 8-12: Repeat Round 4 (30)
Round 13: Repeat Round 4 at the end of the round skip 1 stitch and end with a Sl ST in the next ST.

Finishing
Weave in loose ends throughout the project and place a miniature potted plant inside your crochet plant holder. 🙂 You now have a cozy for your plant baby!
You are done! Now you are ready to give your newly created project as a gift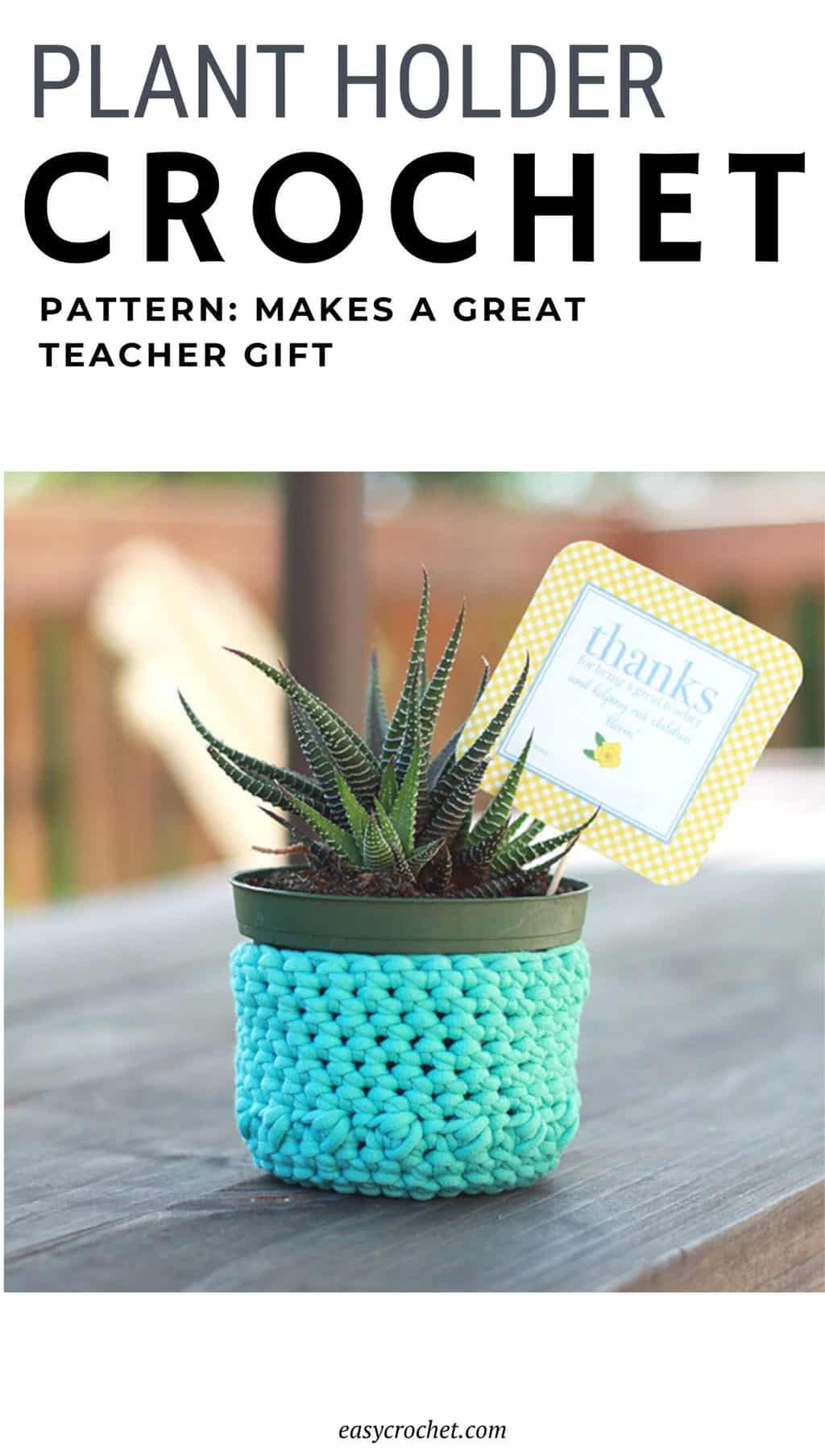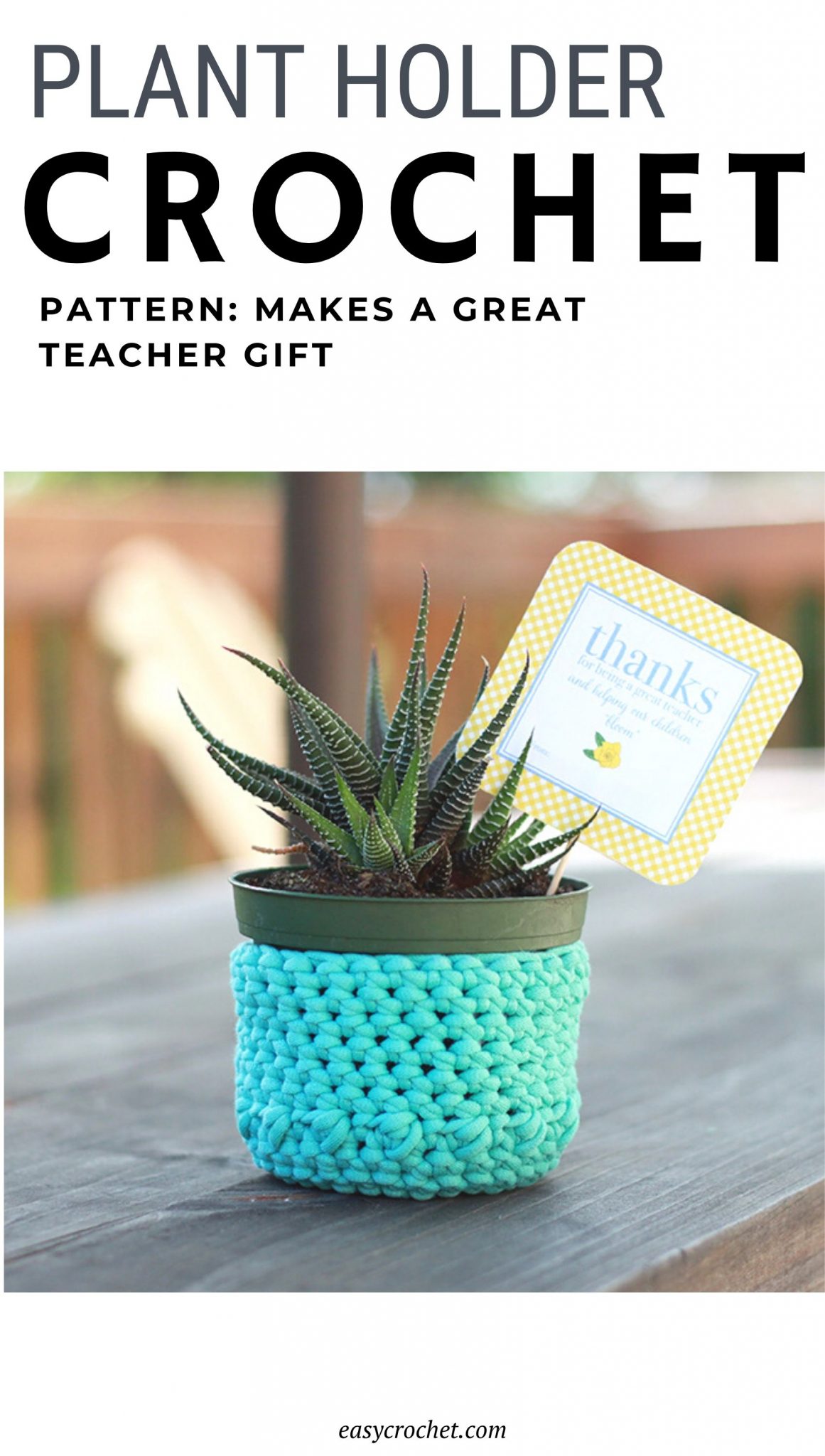 Thank you for stopping by to check out this crochet succulent holder pattern, and if you have any questions, please feel free to ask any time!
More Free Crochet Patterns & Tutorials