Crochet, Knit & Yarn Puzzles
Are you looking for a fun but relaxing way to spend some extra time? How about a jigsaw puzzle that is all about yarn?! I LOVE putting together puzzles with my family on our downtime, and I thought I would share a few of my favorites!
Let me know if I missed any of your favorites in the comments or in the Easy Crochet Facebook Community over on Facebook.
Happy Puzzling!
9 Yarn Puzzles That'll Make You Happy
If you love to crochet or knit, if yarn covers your home, or if you count llamas and sheep at night, then this is the guide for you! I hope you enjoy this list!
This is a cute 1000-piece puzzle that features yarn, a wool shop and sheep! Perfect for yarn lovers!
This cute crochet kitten puzzle is 750 pieces and even comes with a poster to help you put it together. And after you are done, you can hang it in your yarn room or office! It's a win-win.
This puzzle will be a hit during family puzzle day! These extra adorable llamas are dressed up and ready to play!
If you love dogs, yarn, and kittens then this is the puzzle for you! Such a cute and fun holiday themed puzzle to try. Enjoy!
This extra cute puzzle features lambs playing and exploring the farmyard with kittens. If you are in the mood for extra adorableness, then this is the puzzle for you.
This 500-piece yarn puzzle is a great way to spend some extra time inside will it's raining or on a quiet day. So, when you're not knitting or crocheting, you can be doing this fun puzzle instead!
This 100-piece llama puzzle is great for younger kids to put together on their own, or anyone who just wants an easier puzzle.
This yarn room puzzle is perfect for knitters (and yarn lovers) to try out. If you'd like a challenge then this 1000-piece puzzle is for you.
This EXTRA adorable kitten 750-piece puzzle comes with a poster to help make it easier to solve. Once it is finished, be sure to hang it or the poster in your office or yarn room!
Are You Looking for Even More Puzzles?
If this list wasn't quite what you had in mind, be sure to take a look on Amazon to see all the different types they have available. Shop Puzzles Now.
I highly suggest the White Mountain brand since they have a great variety of fun and unique puzzles to pick from.
I hope you enjoyed this yarn themed puzzle list. Please let me know which one you picked in the comments or over in the FB crochet group!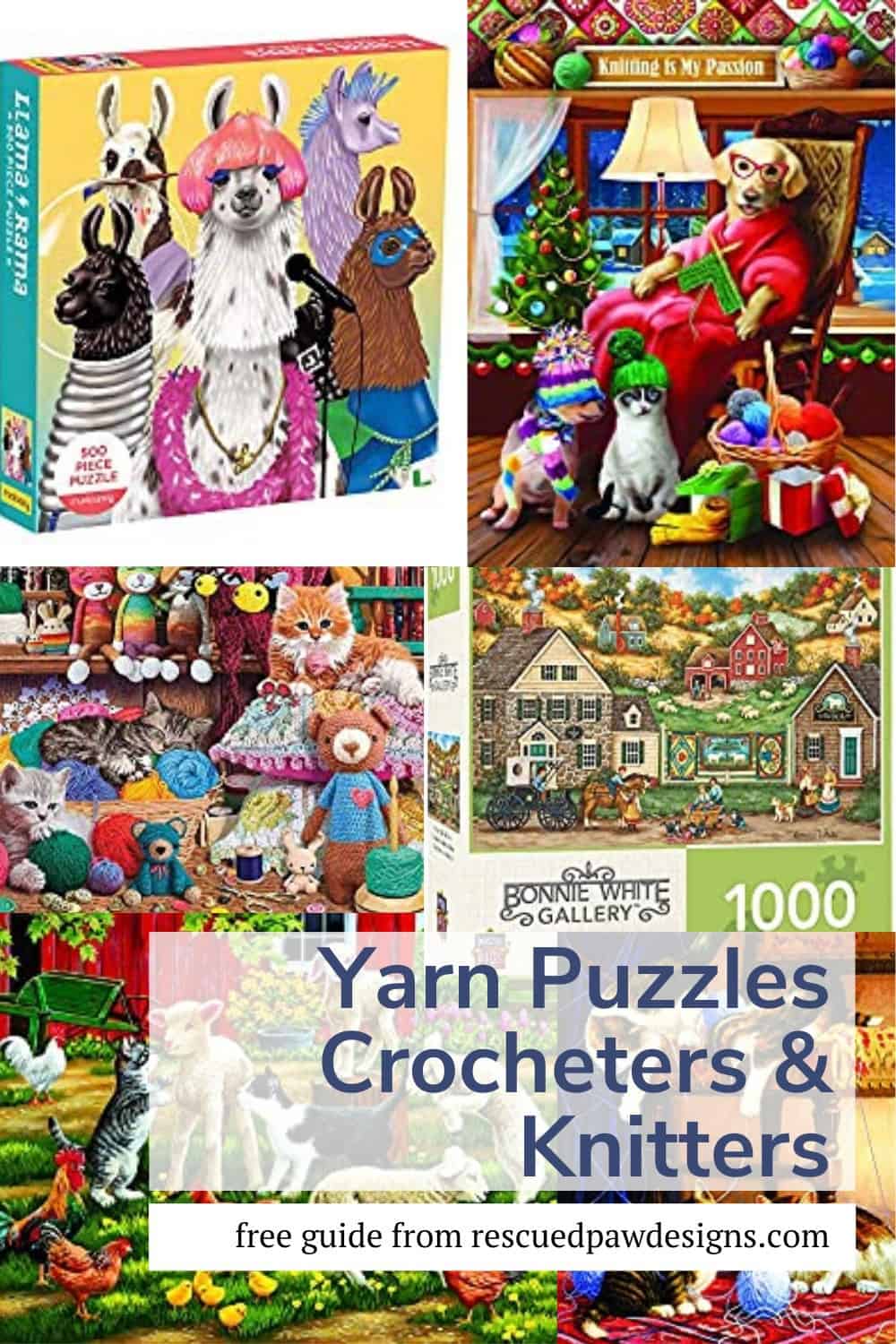 You May Also Like These
Moreover, if you take a break from puzzling, be sure to check out my free crochet pattern archives to find your next project or choose from the ones listed below.