Crochet Adult Slipper Boots Worked Flat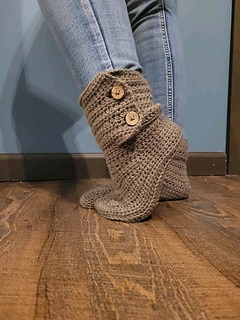 This crochet adult boots looks great on both males and females. It looks cute in just about any colour, even in neutral colours. This crochet adult slippers gives your feet extra warmth during the cold days.
With this pattern, you can make cute adult house slippers just working in rows and it's more convenient and faster than working in the round and you can be sure that your slippers will come out the same size. Heck Yeah! You won't have to make a third slippers just to have two match up!
This crochet pattern and image are property of Toyslab creations.