Free Crochet Soap Cozy Pattern
Hi There! I am so excited to introduce Hortense from Knitting with Chopsticks! She has designed a great crochet pattern for a soap sock for us!
Be sure to stop on over at her blog to check out her gorgeous knit and crochet creations after you see her crochet soap pouch pattern below.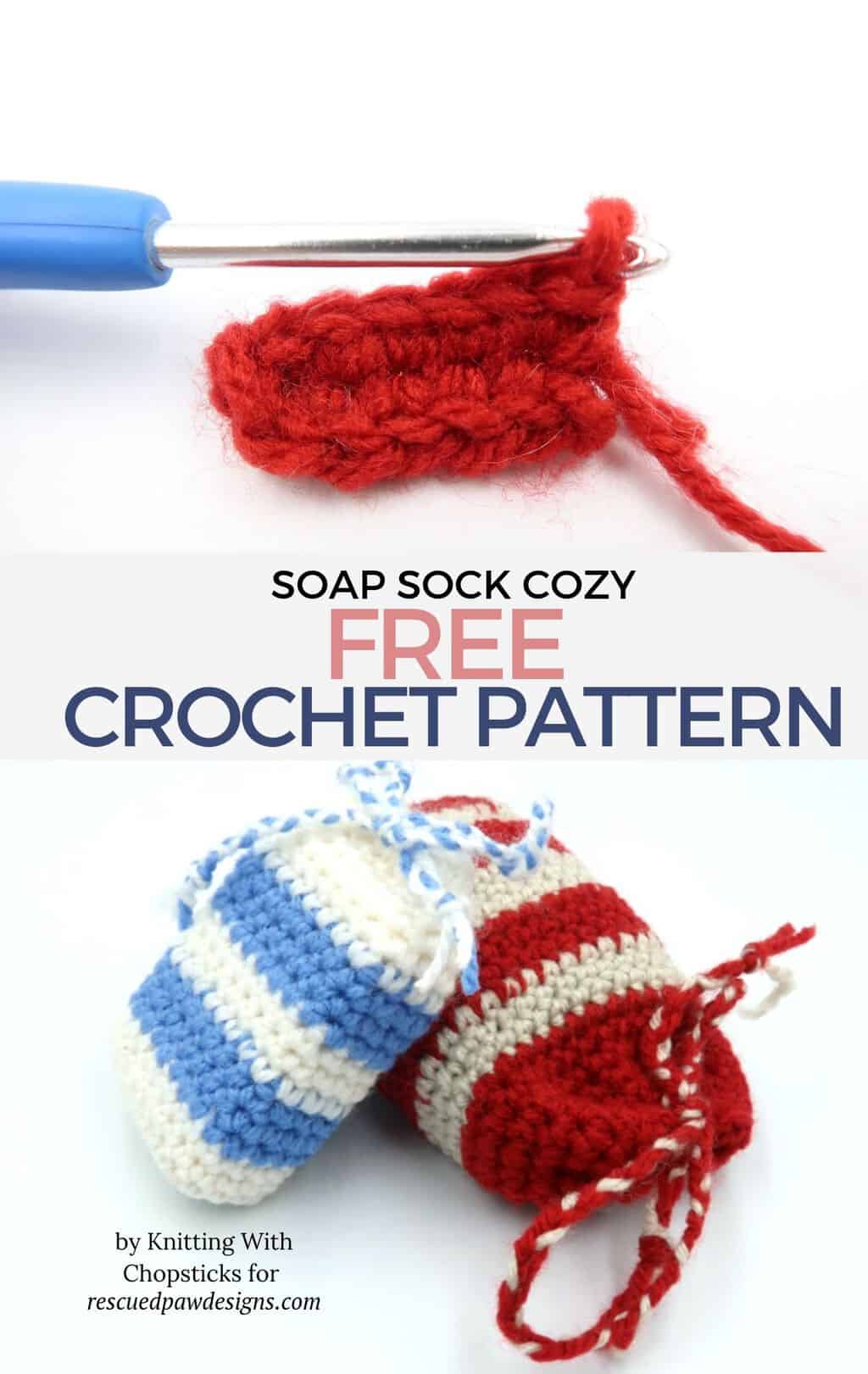 If you have any problems, questions, or comments, contact her, she's always happy to help! Btw, give her a follow on social media (Pinterest & Instagram), she's coming up with a lot of great patterns you don't want to miss out on.
You can find the ad-free PDF version of this pattern in her Etsy or her Ravelry stores.
Without further ado… here is Hortense's pattern!
Why You Should Make a Soap Sock!
Soap socks sounds like a strange idea, right? But actually, they're useful (and so pretty). These cute little soap cozies have two distinct uses:
Use them for travel to carry your soap and shampoo bars around, so you don't get soap all over your toiletries
Use it as a washcloth with integrated soap. The acrylic yarn prevents the sock from felting or losing shape with hot water, and is just scratchy enough to give you a little scrub at the same time. You can make them in cotton yarn if you prefer a soft touch.
These Soap Pouches Make a Great Gift!
Do you like to gift soaps? Make these cute little pouches to gift them in. They work up in no time and add a lot of personality to your gift. Plus, no need for wrapping paper, which helps the planet too.
The Soap Sock Pattern
Skill Level: Easy
Materials
Scraps of worsted weight acrylic yarn: Zeeman Royal yarn (about 40m main color and 10m contrasting color)
Tapestry needle to weave in the ends
Scissors
Sizes: The Soap Sock pattern comes in 2 sizes:
Small for soaps up to 4.5cm by 6.5cm by 2cm / 1 ¾" by 2 ½" by ¾."
Large for soaps up to 7.5cm by 11cm by 4cm / 3" by 4 1/3" by 1 1/2"
Abbreviations & Instructions
Abbreviations: This pattern follows US notations
st = stitch
sc = single crochet
ch = chain
inc = increase = make 2 st in the same stitch
dec = decrease = make 1 st from the next 2 st
miss 1 = skip 1 stitch
Notes
Repeat instructions between ** the indicated number of times, or until the end of the round.
Each stitch is worked in a separate stitch unless specified otherwise.
Gauge
The gauge for this pattern, in rows of sc and dc, is 20 st by 22 rows for a 10 cm by 10 cm square (4" by 4").
The Pattern Steps
With a 3.5mm (E-5) crochet hook and main color yarn Ch 5 +1,
Be sure to work around the starting chain.
The entire pattern is worked in the round, in a spiral.
There is no slip stitch at the end of each round.
Round 1: Sc 4, 3 sc in the same st, sc 3, inc (12 st)
Round 2: inc, inc, sc 3, inc, inc, sc 4, inc (17 st)
Round 3: inc, inc, sc 6, inc, inc, 7 sc (21 st)
Round 4: 2 sc, inc, 6 sc, inc, 2 sc, inc, 7 sc, inc (25 st)
For the small size, skip to round 7.
Round 5: inc, 2sc, inc, 8 sc, inc, 2 sc, inc, 8 sc, inc (30 st)
Round 6: inc, 3 sc, inc, inc, 8 sc, inc, inc, 3 sc, inc, inc, 9 sc (37 st)
Round 7 – 8: sc around
Switch to contrast color yarn
Round 9 – 11: sc around
Switch back to main color yarn and repeat rows 7 to 11 once for the small size, twice for the big size.
Make 2 more rounds of sc in the main color.
With 2 strands of the main color and one strand of the contrasting color make a 35cm braid.
Work a last row of sc over the braid as follows: Sc 6 st for the small size / sc 8 st for the large size, let the end of the braid out, skip one st and keep working over the other side of the braid.
Finish the round over the braid.
Fasten off and weave in the ends.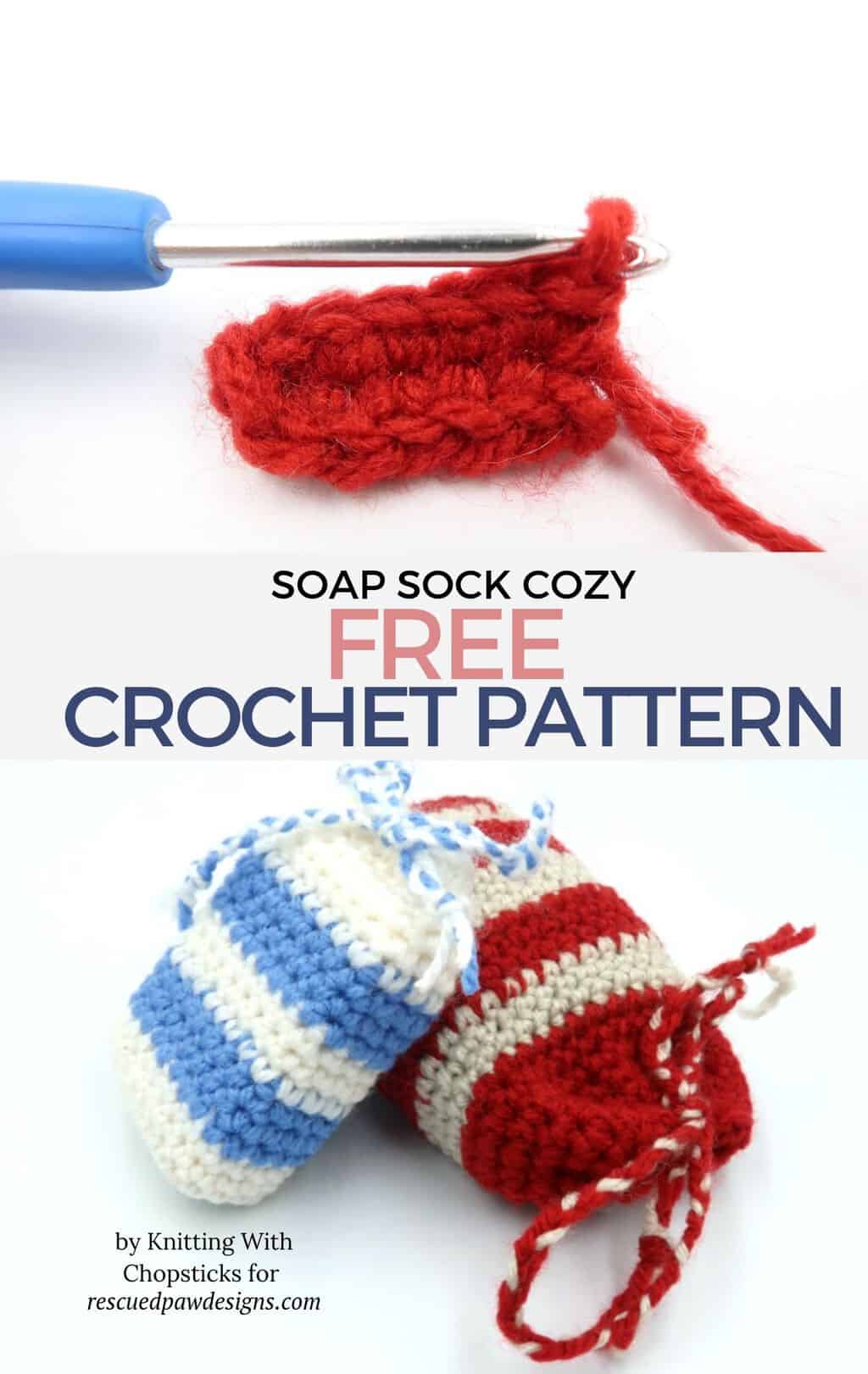 ---
This pattern was designed by Hortense from Knitting with Chopsticks.

She's the passionate knitter, crocheter and yarn addict behind the blog Knitting with Chopsticks where she shares her creations and helps you make your own. Her specialty? Fun, modern patterns for women, home, and babies. All are beginner-friendly to intermediate level and come with tons of step by step pictures to make sure no one gets lost.
An engineer by trade, crafter by passion, you will usually find her playing with some yarn while watching the latest episode of Grey's Anatomy (and probably eating some chocolate).
---
Be sure to check out our other guest designer posts here. Happy Crocheting!