DIY Crochet Scrabble Tile Coasters: Easy Craft
If you want to give the best crochet lover's gift, then these DIY crochet scrabble tile coasters are the way to go! Not only are they cute, but are totally functional!
For me, the best way to spend my waking hours would be curling up with my cup of coffee and crocheting the day away! So, these crocheted themed coasters sound perfect!
Great to use while crocheting all day!
These crochet scrabble coasters are the perfect way to make those crocheting all day days even better! These are made using a pack of scrabble tiles I found on Amazon and some mod podge!
These coasters were a super easy project and only took about an hour to finish! I bet these fun coasters would make the perfect Christmas, birthday or just because gift for any crochet or yarn lover! I know I would love to get them.
Read on down for the FREE tutorial on how to make your own crochet coasters!
How to Make Crochet Scrabble Tile Coasters
Skill Level
Material List
Fiskars Softgrip Craft Knife
Super Glue, Hot Glue or Some kind of Strong Adhesive
Paint Brush
Crochet Scrabble Coaster DIY
STEP 1:
Sort the words you are going to use for your tiles. Arrange 4 Words per coaster in any order.

I used the words: Love, Seam, Hook, Yarn, Join, Loop, Make, Wool, Ends, Post, Ball, Rows, Mesh, Ring, Puff, and Cozy.
STEP 2
Adhere to corners of corkboard (the corner edges were already straight, so it made my life simpler!) with your choice of glue. I let mine dry for 2 hours with a heavy book on top of them.

STEP 3
Cut out the tiles with your Fiskars Softgrip Craft Knife.
STEP 4
Gather a paint brush and Mod Podge Matte Finish. Apply one thin coat and let dry for at least 20 minutes.
FINISHING
Apply another coat and let dry for another 20 minutes, then you are done! Wrap up these coasters with twine to gift or use right away.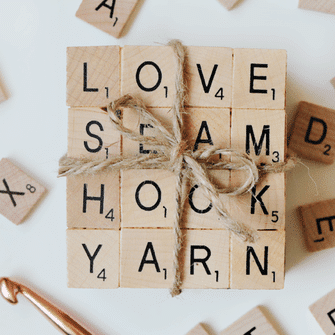 You are done!
Now you can sit back, sip some coffee and crochet the day away!! BLISS
I hope you enjoyed these Crochet Scrabble Tile Coasters and if you require any further assistance, feel free to contact me!
You can easily customize these coasters with four-letter words associated with your favorite hobby (knitting, quilting, sewing, etc.)! I just chose to feature crochet because that is what I am obsessed with. Just remember to have fun.
Happy Crocheting & Crafting!