Crochet Gift Basket Pattern
If you are in need of a quick crochet basket then this crochet gift basket pattern is just what you need! This basket is super easy to work up and can be ready to be filled with your gifts in less than an hour!
Read on down to find this easy free crochet basket pattern!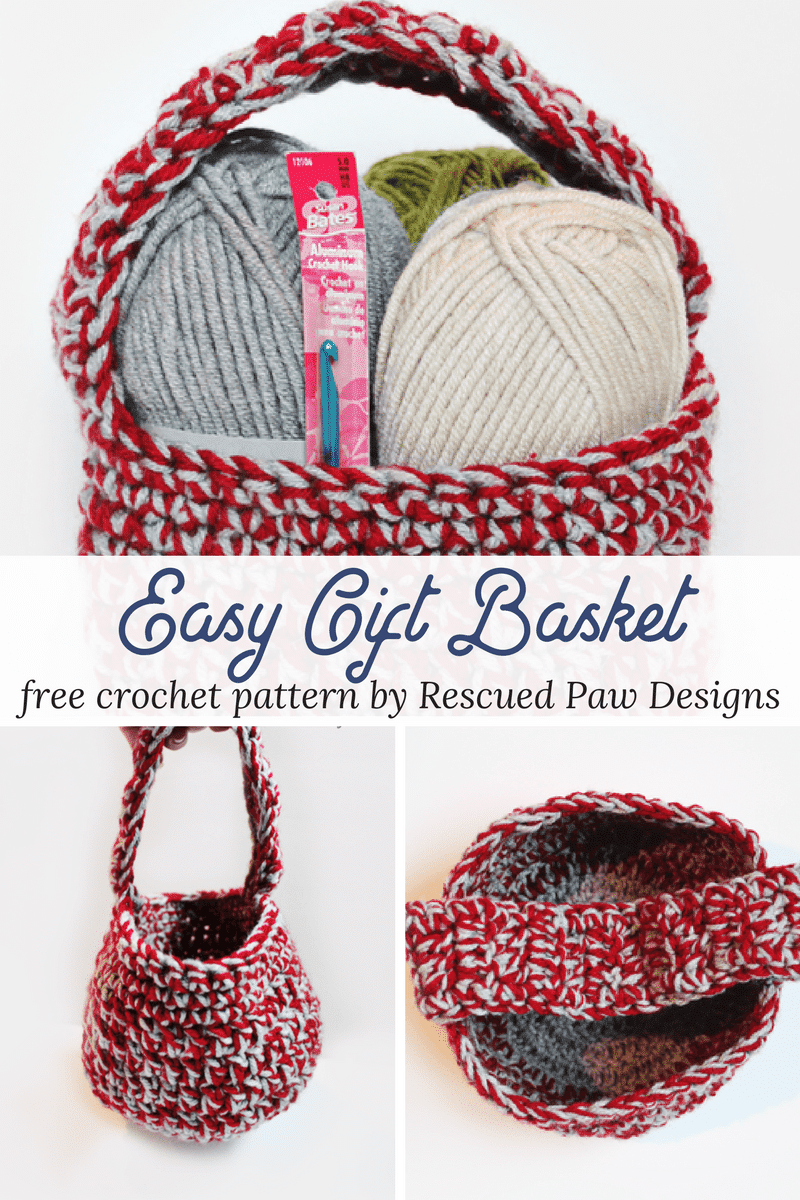 l love the fact that this gift basket is able to be reused and not thrown away like so many other gift bags that we buy.
The Yarn That's Perfect For This Basket
I used my favorite yarn Lion Brand Vanna's Choice
and held two skeins together at the same time to give it sturdier feel!
It is a medium weight yarn but works up very sturdy when held together two skeins at a time for this basket.
Ready to Get Started?
This crochet gift basket pattern is super simple to follow and would make the perfect gift basket for Valentine's day, Christmas and more. Scroll on down to learn how to crochet a basket today!
Happy Crocheting!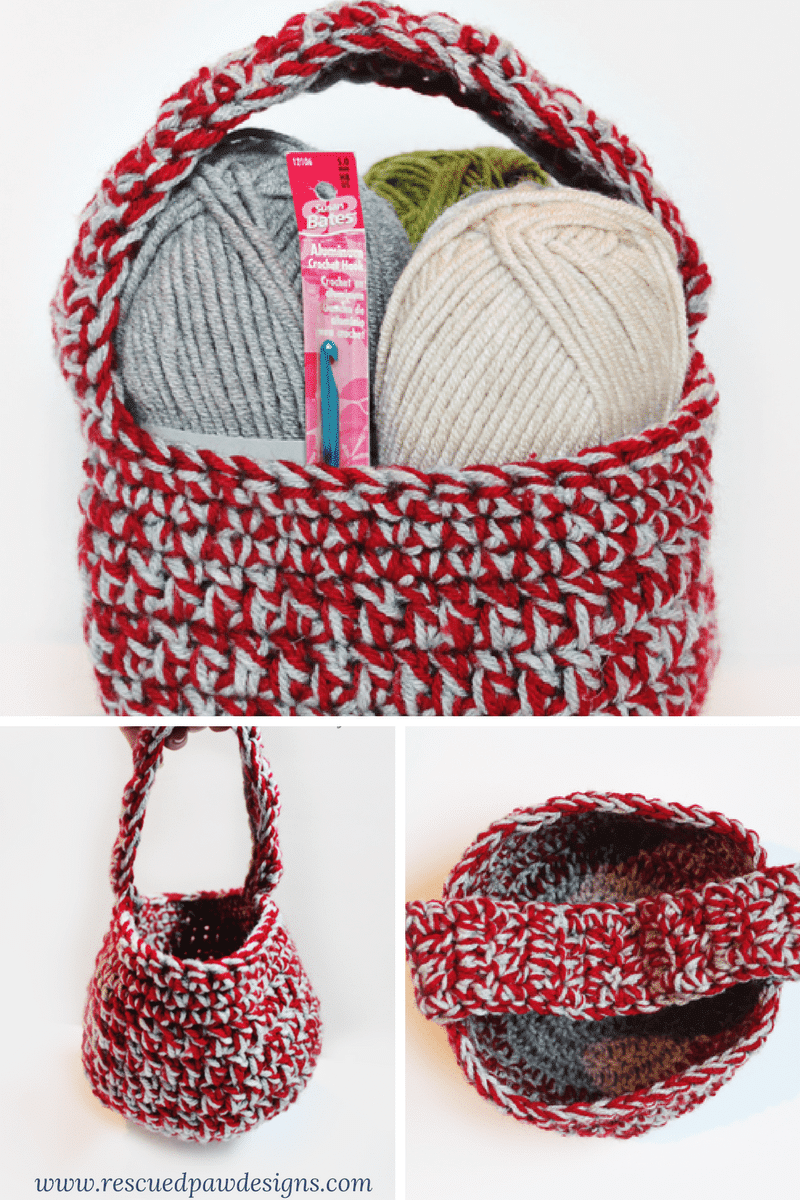 Easy Gift Basket Crochet Pattern
Skill Level: Easy
Materials
Crochet Terms
Notes
Remember to Join SL ST's in every round to the top of the first DC or SC in every round not the chain 1 or 2.
SL ST do not count as a ST (Skip them)
The Crochet Basket Pattern
Basket Bottom:
Use Silver Yarn
ROUND 1: Start with a CH 3,11 DC in 3rd CH from Hook, SL ST to top of first DC (11DC), CH 2
ROUND 2: 2 DC in every ST around (22 DC), SL ST to top of first DC from previous round CH 2
ROUND 3: DC in first ST, *2 DC in next St, DC in next stitch, Repeat from * around. SL ST to top of first DC from previous round (33 DC) CH 2
ROUND 4: DC in each ST Around
Main Part of Basket:
Join in Cranberry yarn along with Silver (we will be crocheting with two strands of yarn at once) Finish by SL ST to top of first DC in round 4. CH 2 (33 DC)
ROUND 5-10: Repeat Round 4 with Both Strands of Yarn (33 DC)
Round 11: CH 1. SC in every ST Around. SL ST to top of first SC. (33 SC)
Round 12: Repeat Round 11(33 SC)
If you don't want to add handles to your gift basket then you are done! Just cut off yarn and weave in your loose ends with the yarn needle.
Handles: (OPTIONAL)
With two strands of yarn join yarn on top of basket (you can pick the position as long as its even) and chain 4 onto basket.
Row 1: Chain 2, Turn, DC in the next 4 ST.
Row 2-15: Repeat Row 1
Join onto other end of basket with (4) Sl ST to form the handle and fasten off securely. To finish weave in loose ends with a yarn needle.
Finished Size is Approximately a 22 Inch Circumference and 7 Inch Length without the handles.
Now fill your crochet basket with whatever you choose (keeping in mind this will not hold a bowling ball).
I mean you can try but I highly doubt it will work 🙂 If you liked this pattern you may also like my easy crochet storage basket too!