Lion Brand Re-Up Yarn Crochet Patterns
Re-Up is Lion Brand's recycled cotton yarn that gives knitters and crocheters another option for those that want an eco-friendly yarn. Re-Up is 85% Cotton and 15% Polyester, and is #4 Medium weight.
It takes, on average, 20,000 liters of water to make 1 kilogram of cotton. By using one 70 gram ball of Re-Up you are saving 1,400 liters of water. So try Re-Up for your next cotton project: you're going to love how it feels to work with and how it feels to help save the planet while doing the craft you love.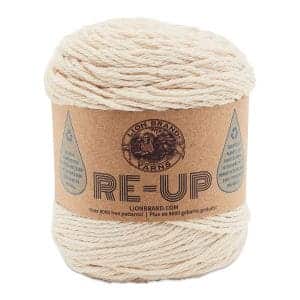 Free Crochet Patterns using Re-Up
Here are some of our exclusively designed free crochet patterns using Lion Brand's Re-Up yarn.