If you have ever wondered how to make tassels for crochet projects, then you have come to the right place! I love adding my unique touch to crochet projects, and a tassel is a perfect embellishment just for that. Read on down to learn how to make a tassel in crochet!
Are you looking for some crochet projects to add your tassels to? Search the Easy Crochet crochet pattern database for inspiration.
They are super simple to make (you can also buy them to save time if you so wish) and are a perfect way to use up scrap yarn!!
Happy Tassel Making!
How to Make Tassels for Crochet Projects and Patterns
Making tassels are an easy way to add a little something extra and are SO easy to make. Enjoy this tutorial, and if you have any questions, please feel free to ask me anytime.
Skill Level: Beginner
Materials Needed
The Tutorial Steps
STEP 1:
Cut Lengths of Yarn Double the Length of Tassel wanted (set 2 lengths aside)
STEP 2:
Fold the lengths in half evenly and use 1 of the lengths set aside to tie all of the lengths together.
STEP 3:
Use the remaining length that was set aside to tie the yarn together.
STEP 4:
Trim the edges evenly with Scissors and you are DONE!!
You Are Done Making a Tassel!

I am always pinning crochet projects and tutorials from the Internet on Pinterest so please come check me out by following me on social and If you have any questions about how to make tassels for crochet projects, please feel free to email or message me!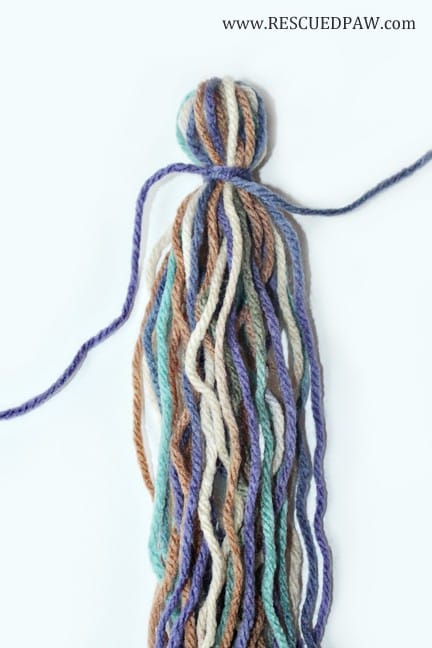 You May Also Like These Free Patterns