Crochet Striped Scarf Pattern
Use the simple & free crochet pattern below to make this infinity scarf which is a great pattern for a beginner crocheter to try!
Are you looking for more quick and easy designs? Try the one-hour cowl pattern which is a reader favorite!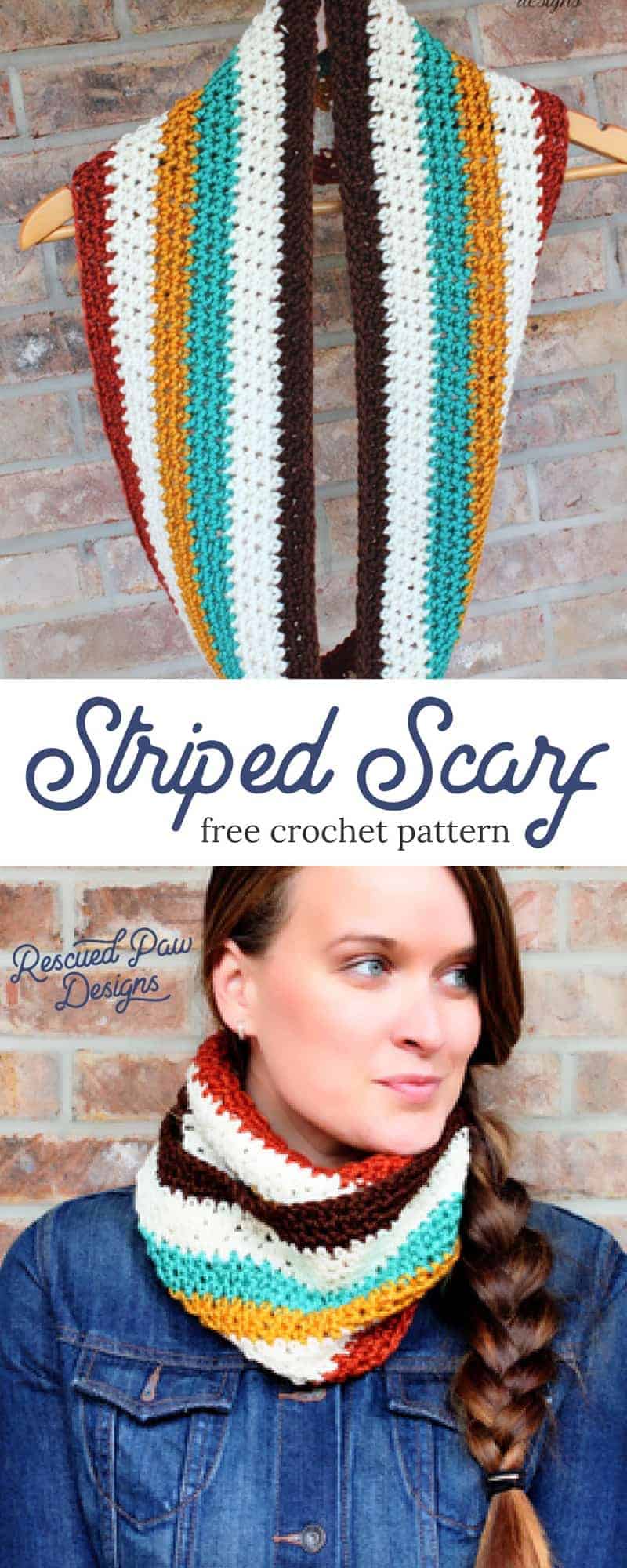 I hope you enjoy this simple beginner-friendly design!
Happy Crocheting!
Learn How to Crochet a Striped Scarf!
If you are looking for a fun and easy crochet scarf pattern, then you have come to the right place! This striped crochet cowl/scarf works up fast and is a great way to use up leftover yarns from past projects!
Read on down for the full, FREE pattern so you can make this easy pattern today!
Bright Colors for Fall!
This fall I am really loving bright bold colors for designs! I am usually the type of girl whose go-to color is black, blackish, gray, grayish or anything in between. So this striped scarf design is a little out of the box for me!
The Yarn
I used a mixture of yarns including Lion Brand Heartland and RedHeart Soft to get the bright bold feel I was looking for. You can substitute any worsted weight yarn that you may have and still get the same fun results. 🙂
Great for Beginner Crocheters!
This scarf pattern is a great beginner project since it uses only single crochet stitches like my other simple striped scarf pattern!
If you are feeling brave you could even try this with a half double crochet stitch to give it a little bit of a different look.
Let's Get Started!
I hope you like this crochet multicolor striped scarf pattern and please read on down for the full FREE crochet tutorial.
Happy Crocheting!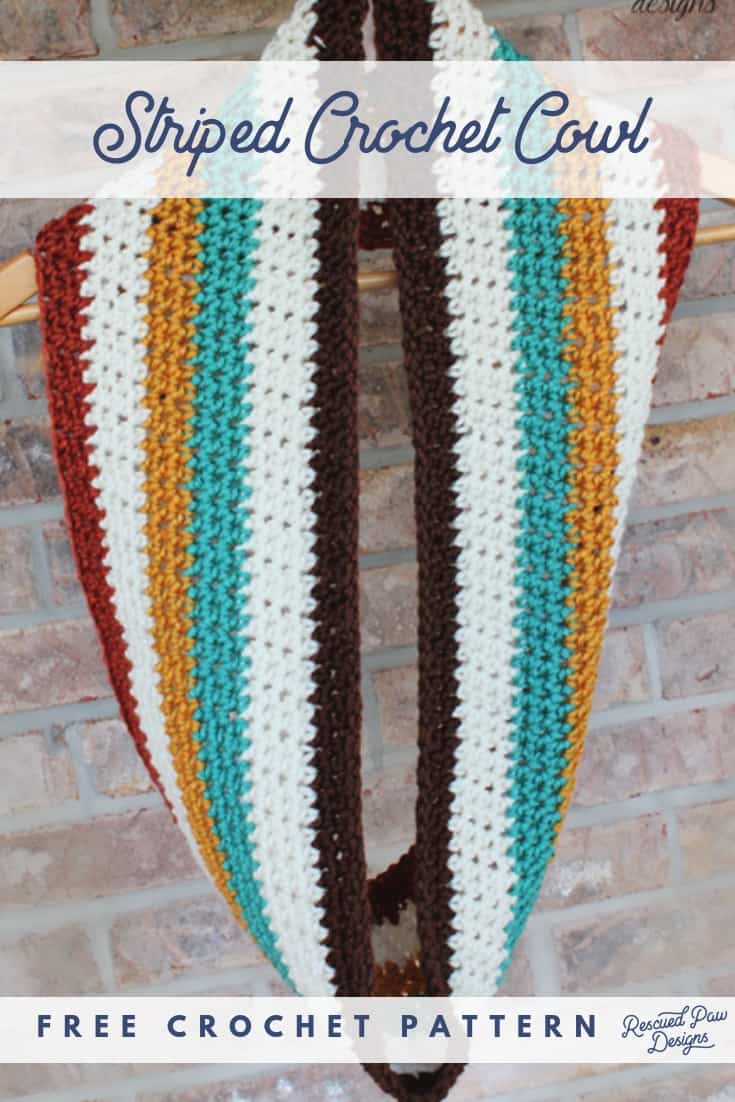 Free Striped Scarf Crochet Pattern
Skill Level: Basic
Materials
5 Different Colors Of Worsted Weight (4) Yarn in brown, off-white, teal, gold and rust. (Affiliate links are below for the brands I used)
Yarn Needle
Scissors
The colors I used:
Notes
Skip the slip stitches each round they do not count as a stitch.
We will be changing colors a lot in this pattern. If you need help with this process, please check out my How to Change Colors In Crochet Tutorial.
Finished size is approx. 50" circumference & 7" width.
Gauge is not important for this project.
Written in Standard US terms.
Pattern Steps
Round 1: With Brown Yarn: Chain 121, Join with a slip stitch to the first chain to form a circle~(be careful not to twist your circle)
Round 2: Chain 1, *single crochet in next stitch, half double crochet in the next stitch. Repeat from * until the last stitch is reached. slip stitch to top of first single crochet.
Round 3 &4: Repeat Round 2 (At the end of round 4 Change Color to Off White using my tutorial if needed.)
Round 5-8: Repeat Round 2 ( At the end of round 8 Change Color to Teal)
Round 9-11: Repeat Round 2 (At the end of round 11 Change Color to Gold)
Round 12-14: Repeat Round 2 (At the end of round 14 Change Color to Off White)
Round 15-18: Repeat Round 2 (At the end of round 18 Change Color to Rust)
Round 19-21: Repeat Round 2, Fasten off after round 21.
Finishing: Weave in loose ends with a yarn needle
You are DONE!!

Thank for Checking Out This Free Crochet Pattern!
I hope you enjoyed this striped crochet scarf pattern! If you have any questions about this crochet pattern or any others, please leave me a comment!
More Free Crochet Scarf Patterns