1 Hour Free and Easy Crochet Cowl Pattern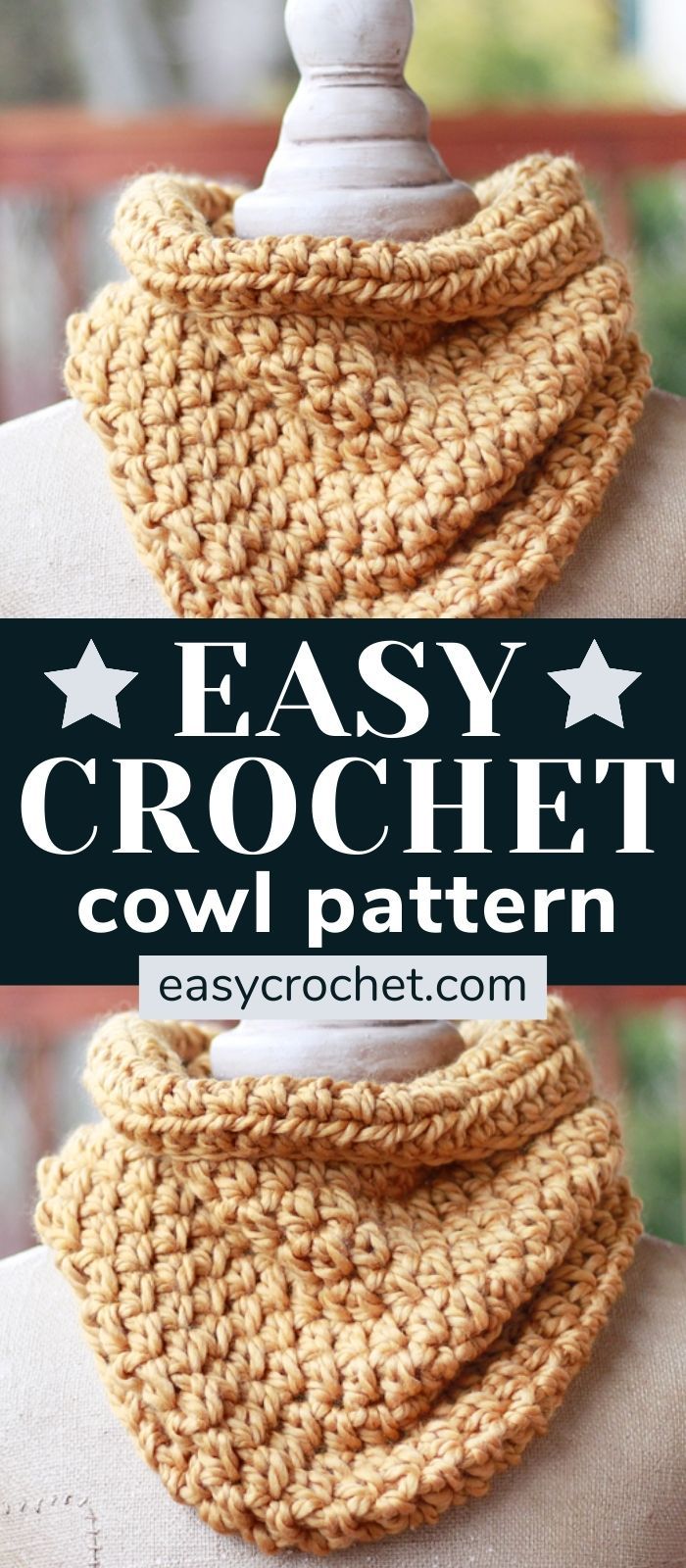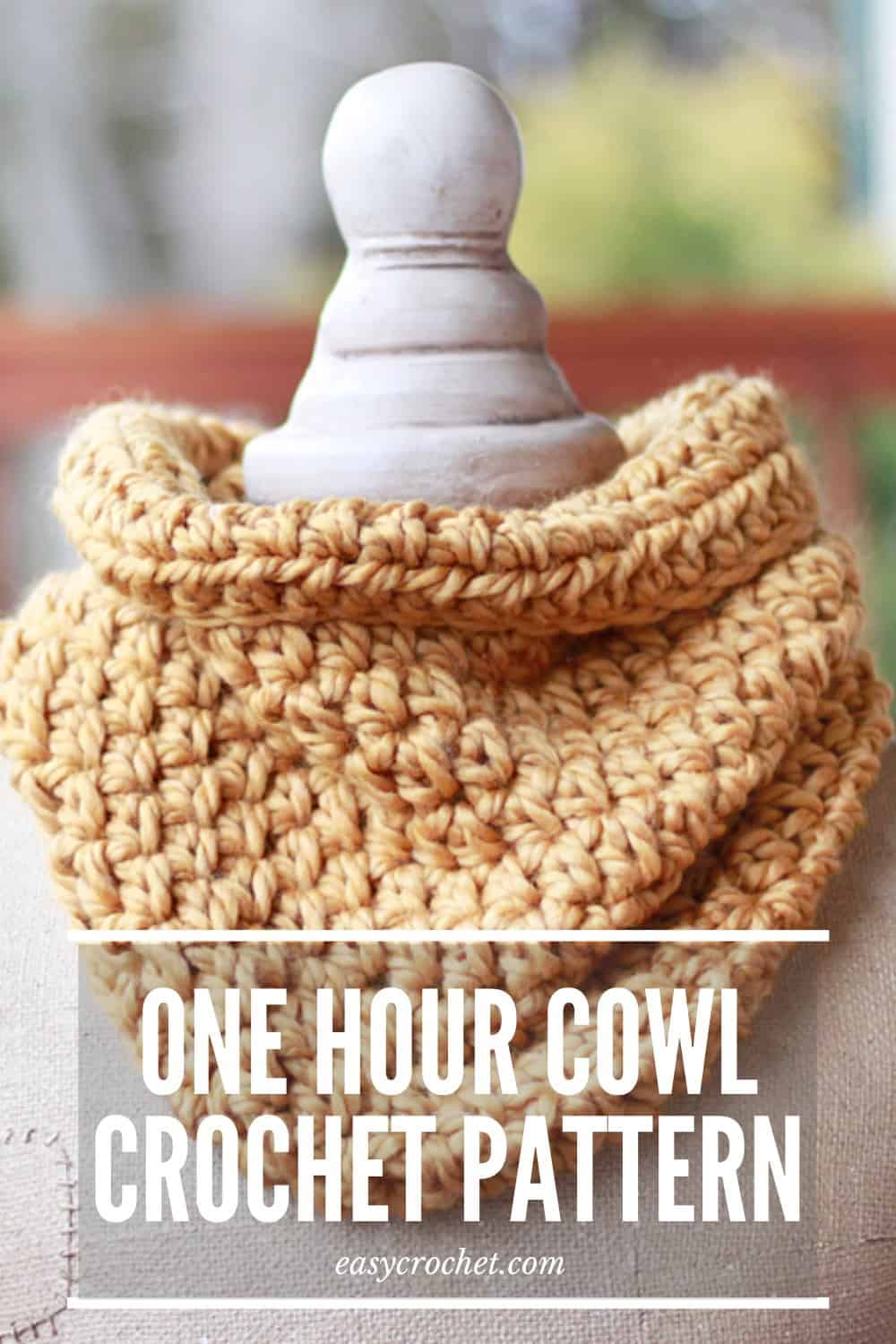 This easy crochet cowl is the perfect first crochet project for a beginner who's looking to try something a bit more adventurous than rows.
This cowl uses only basic crochet stitches throughout the entire pattern and is quick to work up. I'm talking about less than an hour from start to finish in making this crocheted cowl!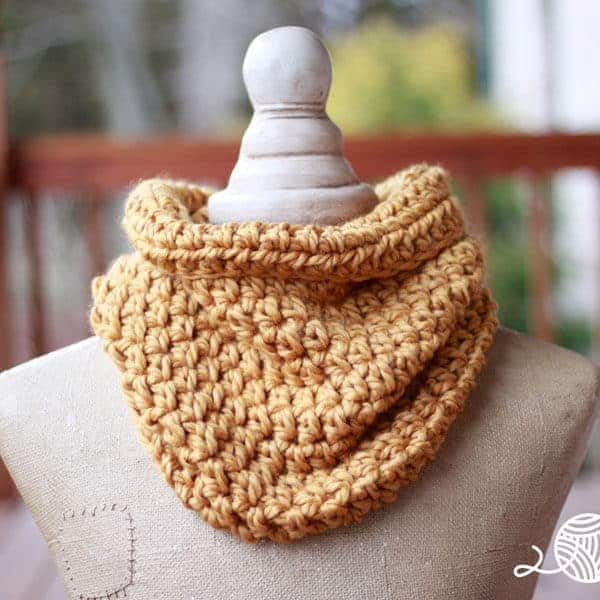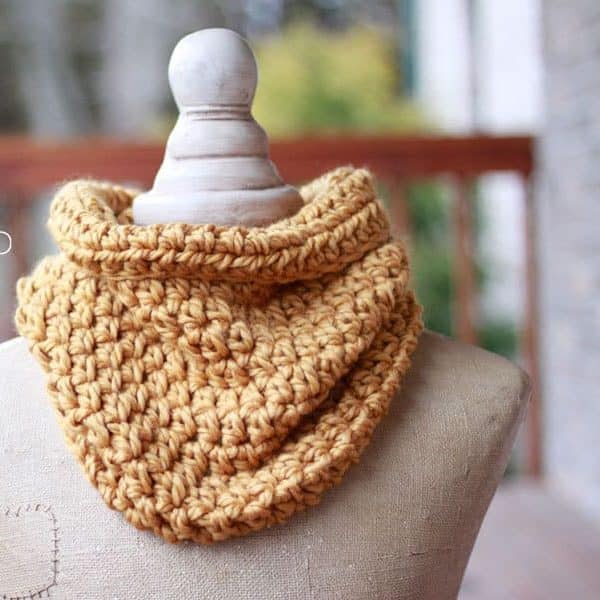 Read on down to find the free pattern with all the details right here on the blog, or find the easy to print PDF version in our shop. If you love quick & easy crochet patterns, then you'll definitely love this easy crochet cowl!
I can't wait for you to get started on this simple design to see how fun (+easy) it is to crochet!
Happy Crocheting.
The Crochet Stitches for a Quick & Easy Cowl
This one-hour cowl pattern uses the half double crochet stitch, chain stitch and slip stitches, which makes it work up extremely fast. If you are new to crochet then this cowl is for you since it is so simple to get the hang of.
I promise it, this easy crochet stitch will make learning how to crochet a cowl seem like a breeze. If you'd like to learn how to make a half double crochet stitch in crochet plus the other stitches, follow the Easy Crochet tutorial below.
The Crochet Stitches
Yo (yarn over) insert hook from front to back of the designated stitch, yo the hook and pick up a loop.
Yo the hook and pull back through all three loops on the hook.
Half Double Crochet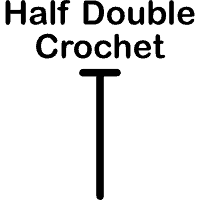 Patterns Using This Stitch →
Insert hook into designated stitch
YO (yarn over) and pull back through the st and through the loop on the hook.
Slip Stitch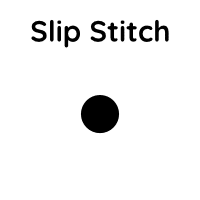 Patterns Using This Stitch →
A simple crochet stitch that often forms the foundation of what crochet stitches are worked into during projects.
Make a slip knot.
Insert hook into slip knot point first, bring yarn over the shaft of the hook from back to front and grab it with the throat of the hook.
Draw hooked yarn through slip knot and onto the hook. This movement will make one chain stitch
Repeat steps two and three until you have the desired number of stitches for a pattern. One loop will remain on hook.
Yep! That's it! Just a few basic crochet stitches are needed to know how to crochet an easy cowl. If you can master these stitches, then you will be good to go.
The Yarn You'll Need for This Chunky Beginner Cowl
This chunky yarn cowl uses less than 2 skeins of Cozy Wool from Michaels in the color Golden Rod, which is a thick and super bulky six yarn. Super Bulky yarn is perfect to use on crochet projects like this because it works up so fast, and it feels cozy!
Take a look at the cozy yarn below. ↓

Cozy Wool
This yarn is made by Loops and Threads, and is a Weight 6 – Super Bulky yarn.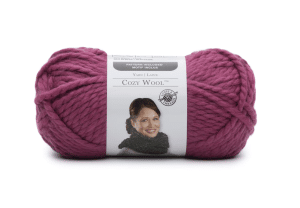 Buy Now
Patterns Using This Yarn →
Do you want to use a Substitute Yarn? No problem! If you can't find the Cozy Wool yarn, I would suggest using Wool-Ease Thick & Quick or Hometown USA, both of which are from Lion Brand. These two substitute yarns can easily be found almost anywhere online, including my go-to shopping place, Michaels.com or on Amazon.

Get Started on This Easy Crochet Cowl
If you are ready to make this simple crochet cowl, then read on down for the full, FREE pattern or purchase the ready to print PDF version in our shop below. If you prefer a video tutorial instead, subscribe to my YouTube channel, so you never miss out on a free pattern!
To sum it up: This simple beginner-friendly crochet cowl (remember, the skill level is easy, so you'll need to know the basics of crochet to make this!) can be made quickly with thick bulky six yarn or even with strands of different yarn held together.
You'll love how easy it is to make and how simple this cowl tutorial is to follow! Promise!
One Hour Beginner Crochet Cowl Pattern
Skill Level: Easy
Materials
Abbreviations + Stitches
Learn the crochet stitches and abbreviations before starting this design.
Gauge
5 sts x 4 rows = 4″ x 4″ inches
Finished Size
32″ circumference & 13″ height || fits most teen – adults (when correct gauge is followed)
Use our crochet scarf & cowl size chart to see common scarf sizes.
Notes
ch 2's do NOT count as a st (skip them)
The pattern is written in standard US terms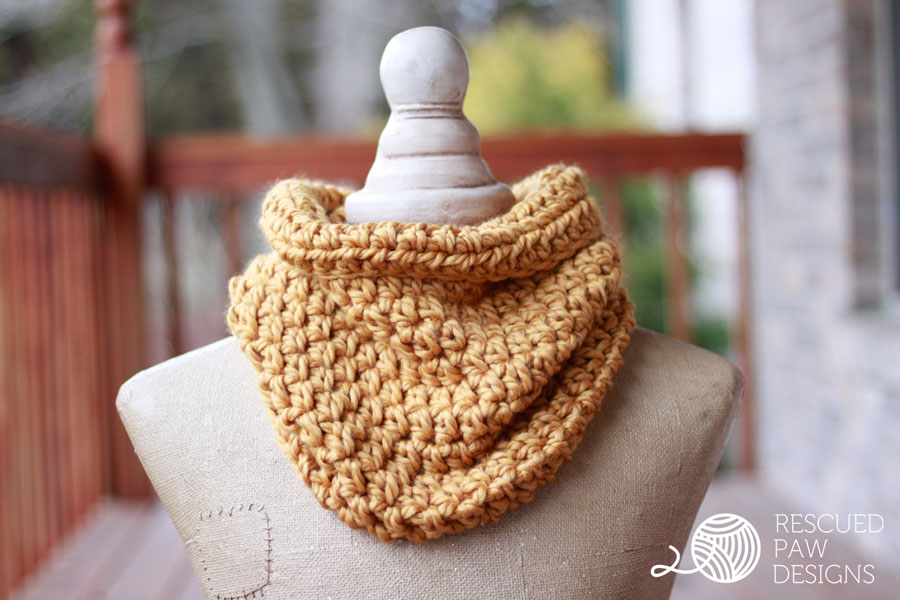 Easy Cowl Pattern Steps
Round 1: Ch 40, sl st to the first ch to form a circle, taking care not to twist. (40)
Round 2: ch 2, hdc in 3rd ch from the hook, hdc in every ch around, sl st to top of first hdc. (40)
Round 3: ch 2, hdc in first st, hdc in every st around, sl st to the top of the first hdc. (40)
Round 4-14: Repeat round 3. (40)
Finishing: After round 14, fasten off with scissors and weave in loose ends throughout the cowl with a yarn needle.

That's it! Your one-hour crochet neck scarf cowl is now complete! If you liked this pattern, you will probably also like the 1-Hour Messy Bun Beanie Pattern too.
If you liked this pattern, follow along with me on Facebook, Instagram, or Pinterest (I pin daily).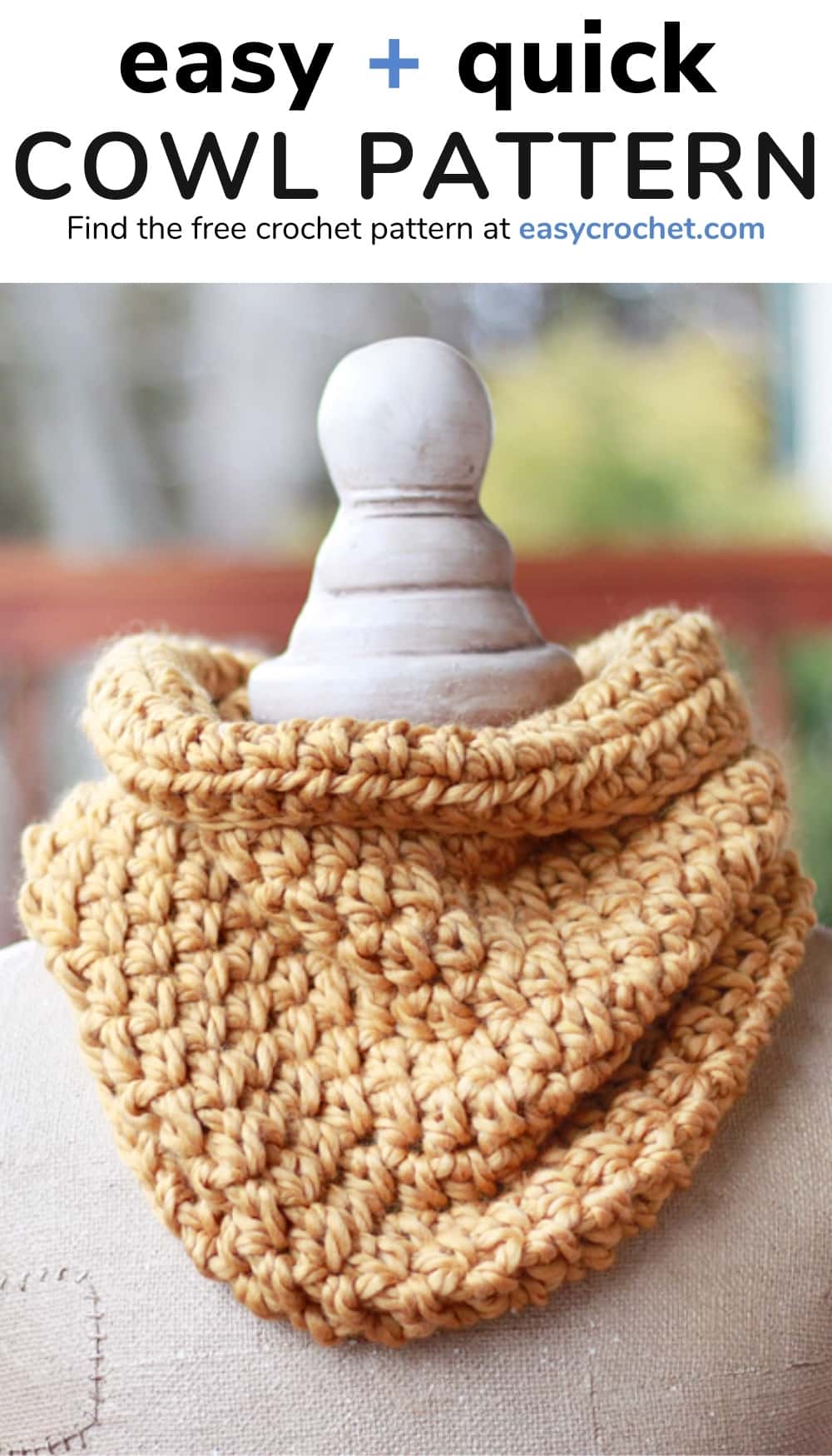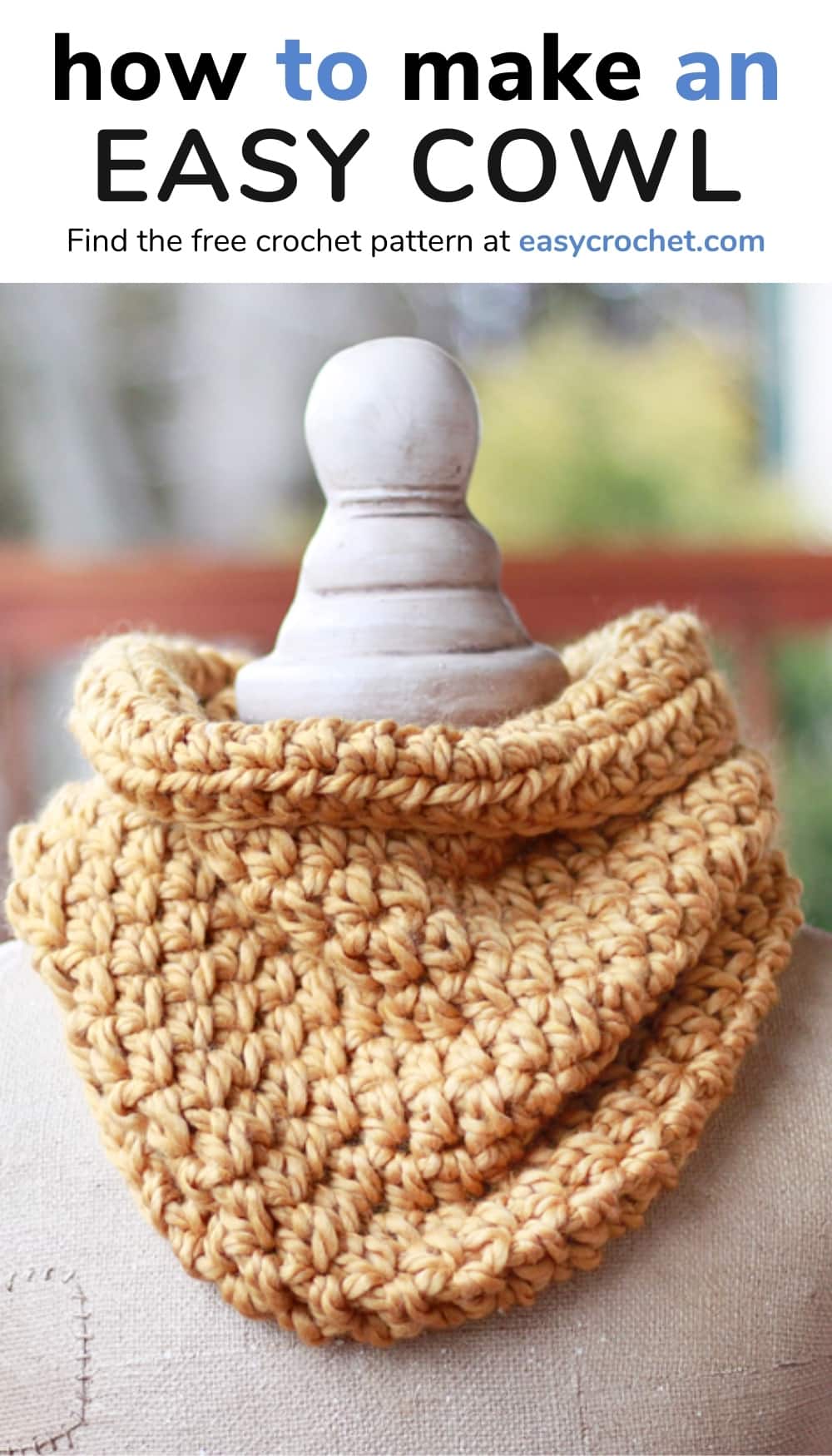 More Free Crochet Cowl & Neck Patterns
Are you looking for even more crochet cowl patterns? Explore the Easy Crochet scarves/cowl pattern database for inspiration.
We Have More Easy Cowl Crochet Patterns Just Like This
On a side note If you like fast cowl projects, then you may like my Leigh Crochet Cowl Pattern, Double Crochet Cowl Pattern and many more found in my crochet scarf archives!