I recently came up with this fun new spring crochet pattern and am so happy to share it with you all! It is a simple combination of stitches that will look great in any pattern.
Scroll on down to find the FREE crochet stitch tutorial!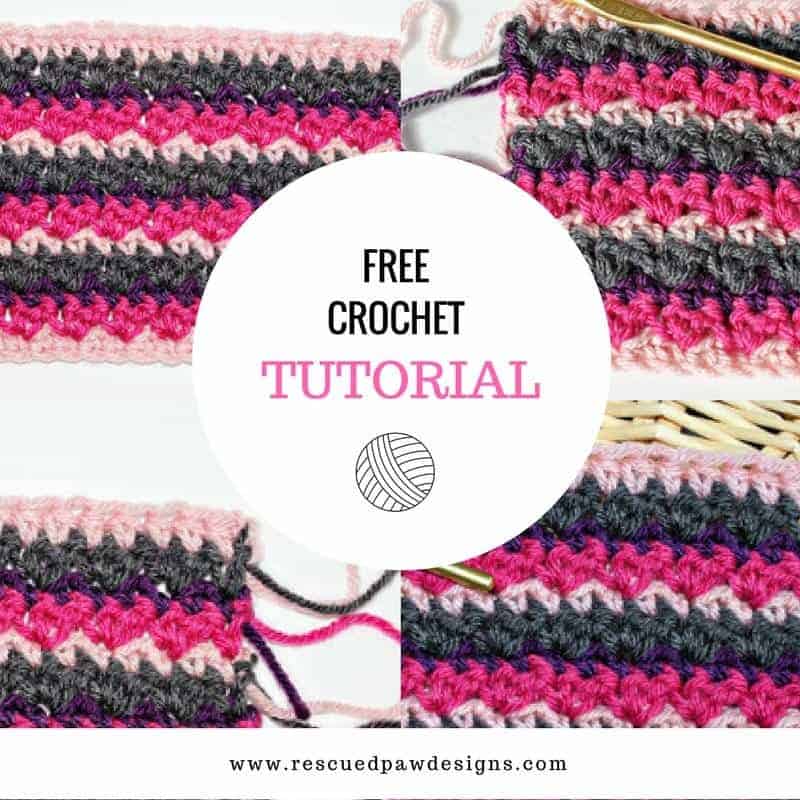 This crochet stitch design is so simple that any skill level of crocheter could make it! All you need to know is how to single crochet, double crochet and half double crochet. These are all basic crochet stitches which means that this tutorial will work up easily. Learn more about each stitch below so you'll have a better understanding of the pattern once you read it.
Double Crochet (dc):
Wrap the yarn over (YO) the hook, insert the hook into the specified st.
YO the hook again, draw the yarn through the st so there are 3 loops on the hook
YO the hook again draw it through 2 loops so there are 2 loops on the hook
YO the hook, draw it through the final 2 loops.
Single Crochet (sc):
Insert the hook from front to back in the second chain from the hook or designated stitch
Bring the yarn over (YO) the hook and pull the yarn back through the chain from back to front (2 loops on hook).
YO and pull through both loops on the hook.
Half Double Crochet (hdc):
YO (yarn over) Insert hook from front to back of the designated stitch, YO the hook and pick up a loop.
YO the hook and pull back through all three loops on the hook.
If you are a beginner crocheter looking for a something a bit more challenging than this spring crochet pattern is for you! I designed this to be an easy crochet pattern and I hope you enjoy crocheting it. Read on down for the full, FREE crochet pattern and Happy Crocheting!
Spring Crochet Stitch Tutorial
Skill Level: Easy
Materials
Crochet hook- 6.00 MM
Yarn- I used Lion Brand Vanna's Choice in Pink, Charcoal Gray, Purple and Raspberry or any medium weight (4) yarn
Scissors (to cut off the ends)
Yarn needle (to weave in loose ends)
Notes:
Written in Standard US Terms
The Pattern
Chain an even number I did 24 in the sample with the first color of your choice
ROW 1- chain 1, single crochet across every stitch in the row, change colors, turn.
ROW 2- chain 2, single crochet & double crochet in first stitch, skip 1 stitch, single crochet & double crochet in next stitch, skip 1, Repeat this pattern till you reach the end. Make sure to end with only a single crochet, change colors, turn.
ROWS 3 to?- Repeat rows 1-2 until you reach your desired length
LAST ROW- finish off with a half double crochet
Finish up this project by weaving in loose ends with a yarn needle
You are Done!
If you love this pattern, I am always pinning crochet projects and tutorials from the Internet on Pinterest!!
Check it out on my board on Pinterest. If you have any questions about my fun new spring crochet pattern, please feel free to ask!
Thanks for taking the time to look!!